This former pro-tennis player is a well-known and beloved coach in Central Florida. Ram Seetharam is passionate about tennis and pickleball, and hopes to teach as many students as he can. His love for these sports runs deep, so he's working as the USA Pickleball Ambassador in his area so he can bring the sport to as many people as possible.
Despite never having a coaching accident during his career, Ram still carries liability insurance for the peace of mind it offers. It allows him to stay focused on the students he's teaching, and not have a looming thought of, "What if someone tries to sue me?" After Ram shared his insurance journey with us, we wanted to share his inspiring coaching story with the world.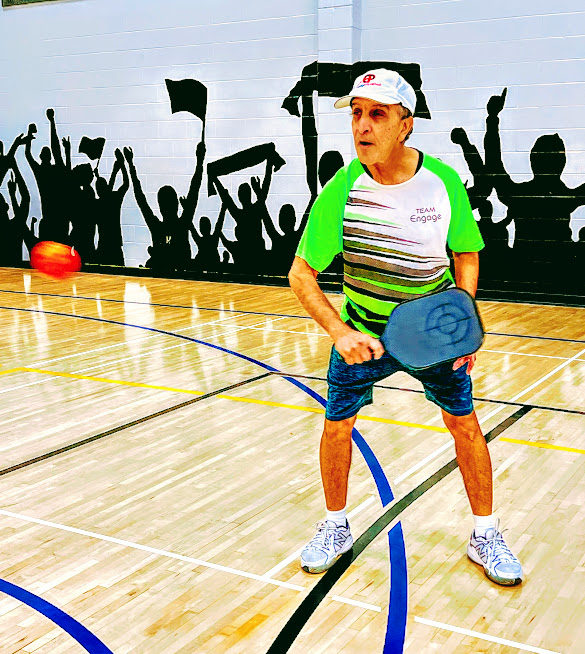 Q: Tell me a little more about yourself as a tennis and pickleball coach.
I teach all skills levels and backgrounds in a variety of places. I teach at our local community center, at people's homes, or on any court anywhere. If someone wants to learn, I will do my best to be there to teach them.
It can be tricky sometimes, teaching people anywhere from 5 years old to 85 years old. I have to be able to adapt what I am doing to that specific person, like being a kid when teaching kids. Sometimes I have to be more of a mental coach than a skills coach, because you might have good technique and strategy, but you are letting your mind get in the way of what you can accomplish.
One of my personal philosophies as a coach is that I think everyone should get the opportunity to fall in love with these sports the same way I did. I can teach people who are just starting out, and I will teach someone who is playing professional tournaments. Skill isn't the only thing that makes a difference in a pro vs a beginner — it's the passion for the game. If you have it, you can go far in these sports.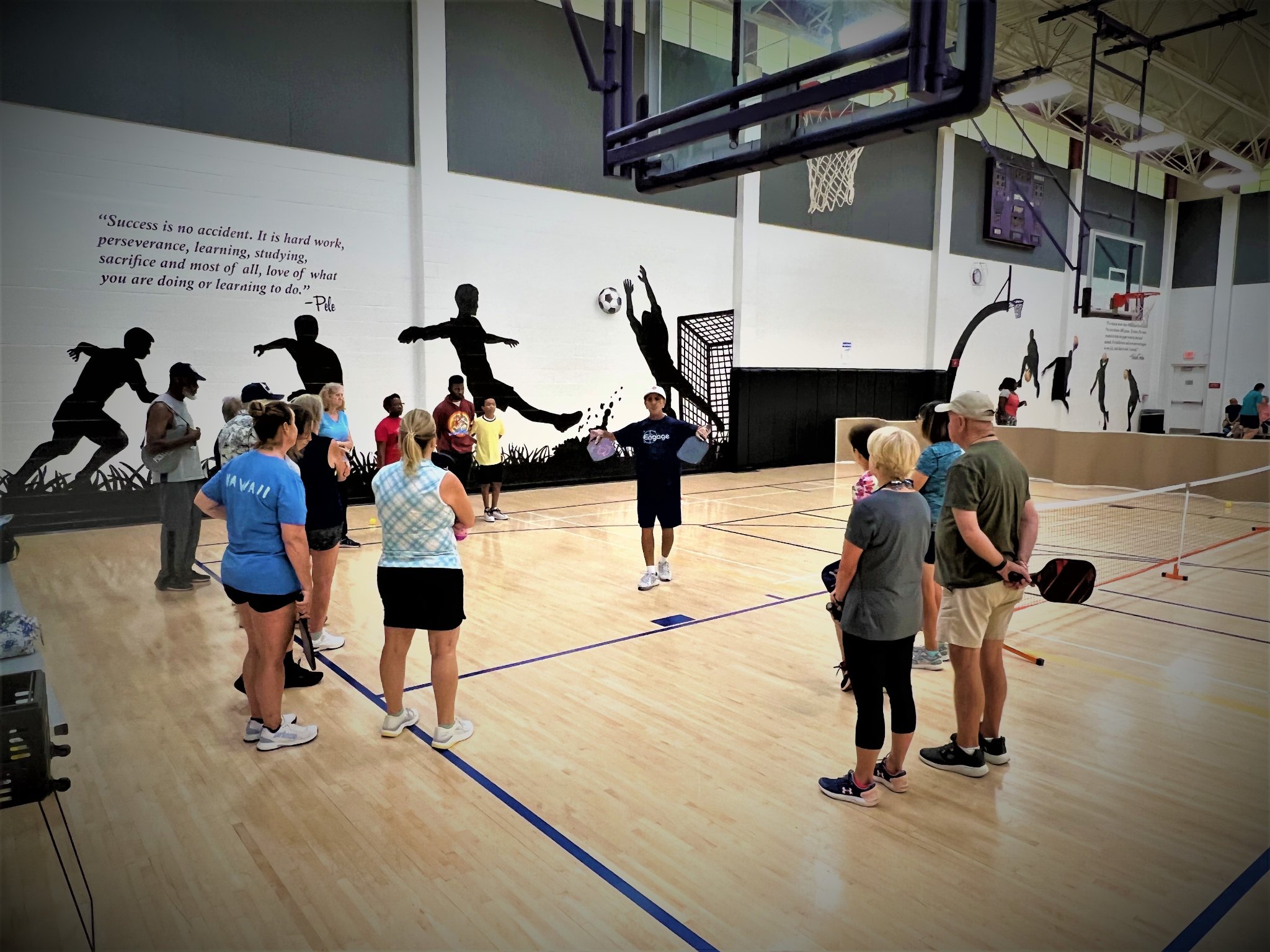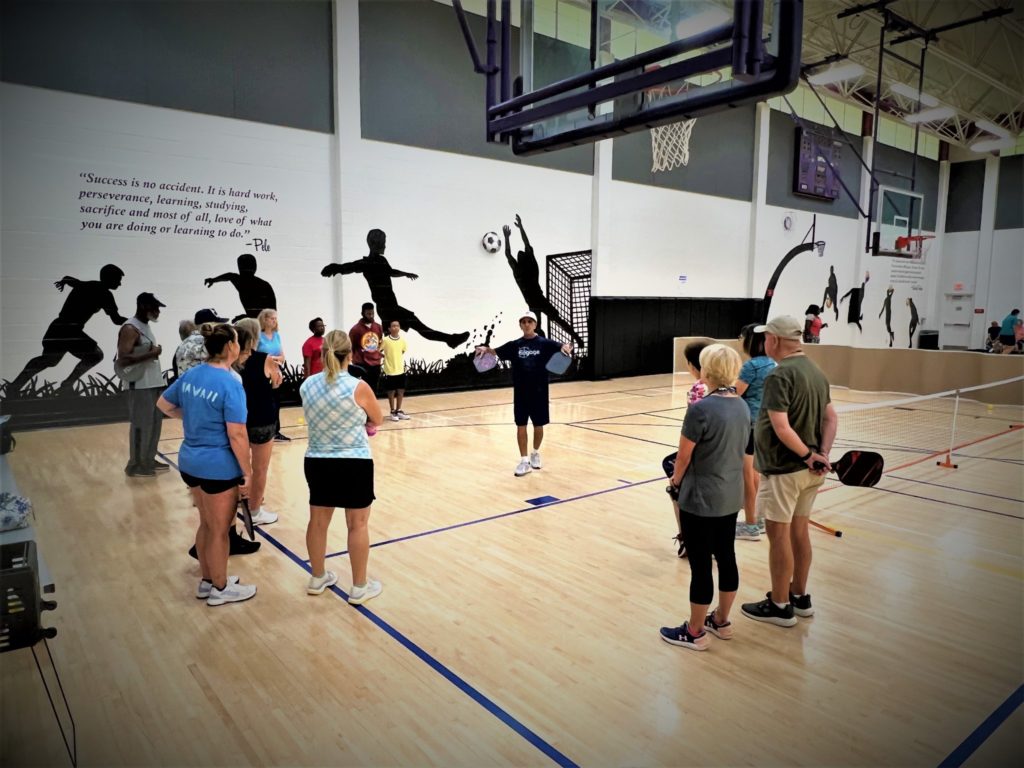 Q: I understand you are the USA Pickleball Ambassador in your area. Can you tell me more about what that is like?
Well, it means I really love pickleball! As an ambassador, I help to promote and grow the sport in my area. I get the opportunity to bring pickleball courts to my local area, like schools and community centers. I'm the person someone calls when they want to paint the lines in a school or get nets set up in a rec center and find coaches.
My biggest thing is I want to just bring this sport that I love to more people, so I don't charge for a lot of the pickleball work I do. I have a portable court that I bring with me to different locations and I have fun just teaching people how to play. Sometimes we just set it up in a parking lot. I want people to focus on the passion of the sport, and not having to pay to learn it.
A lot of the places I teach at, we provide the pickleball paddles. All you have to do is show up in the right pair of shoes. One of my biggest goals is to just teach as many people as possible. I want to share the passion for these sports with as many people who want to learn about it, so I try to make it as accessible as I can.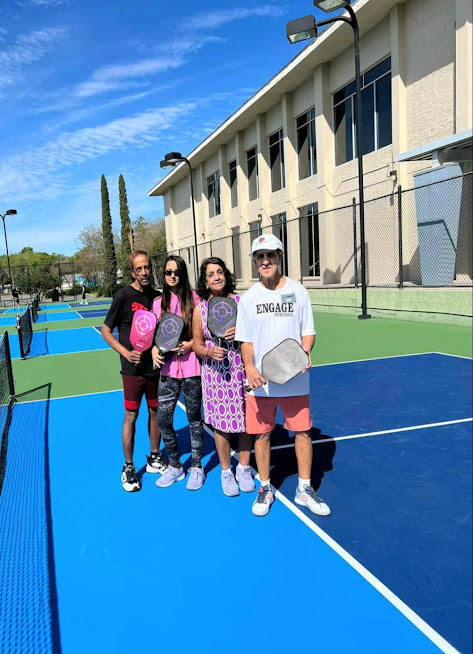 Q: If someone is wanting to play tennis or pickleball for the first time, what kinds of advice do you give them?
I always tell my students to always remember the 3 C's: Concentration, Coordination, and Control. If you have that, you can develop a good game strategy and hit the ball the way you want to. A lot of the art of the game is the mental strategy. You control the ball, the ball doesn't control you.
It's also important to me to help my students to know how to play safely so they can keep playing for a long time. I will teach them how to safely run backwards, or how to roll when you fall so you can minimize the impact and injuries. How to have the right footwork or form when hitting the ball so you don't hurt yourself. Safety is huge, otherwise you wind up with things like tennis elbow later on.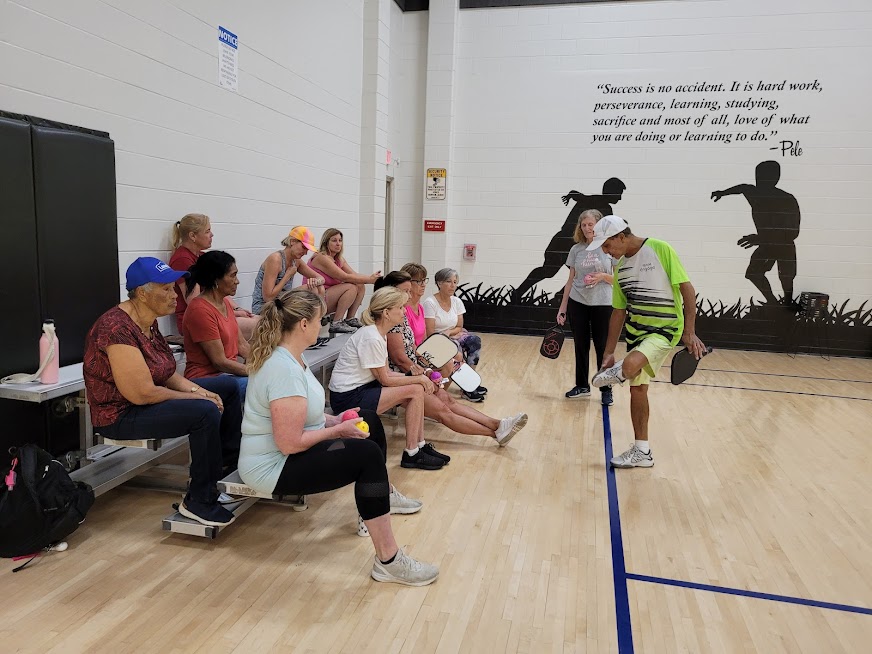 Q: Where do you see pickleball going as a sport in the future?
I can easily see pickleball growing into a popular sport that gets as big as tennis. A lot of younger people are picking up the sport and getting their friends into it. It's a lot more accessible than tennis right now because it doesn't take a lot of fancy equipment to get a court set up.
You see people just using tape to make a court in an RV park and setting up a little net and then playing with friends for a couple of hours. I'm even seeing it in elementary schools. They play indoors with mini nets. I think it's a great thing for kids to learn, because as they get older they start to get interested in tennis. So it helps to open the door to other sports for them.
It's been phenomenal to watch the sport explode here in Florida. We have more players than we have courts to hold them. The fact we just opened 8 new courts at the community center here is a big deal. And we are getting ready to host our first pickleball tournament this year.
I hope the big pickleball tournaments can become more affordable, though. That is something that millionaires have taken over, so it's expensive with the entry fees and membership costs and stuff. You don't see as many people getting into pickleball competitively and playing at the big top tournaments. It's more popular as a sport to play for fun with friends. So I think changing the mindset around the professional aspect of the sport would be good.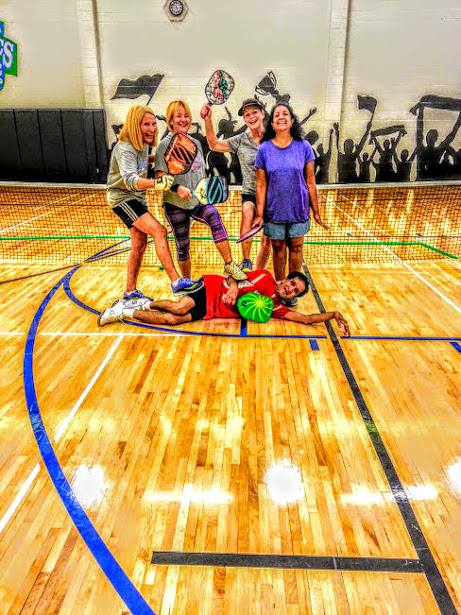 Q: What advice would you give to someone who wanted to start coaching?
My advice to someone who wants to start coaching would be to be honest with your students. Be open and be nice. Some coaches are strict and expect perfection. They are too rigid. It makes people dislike the sport or leave it. They care more about someone's form more than if they are enjoying themselves.
In tennis, you get a lot of people who only care about making a lot of money from coaching. They're not putting their heart and soul into it. Your job as a coach is to help build the passion and love for the sport. Sometimes people who love the sport the most are the ones who can't afford a thousand dollar lesson. You want to give everyone the chance to try the sport and treat them all the same. You can't put a price on talent!
The most important thing though is to do better than you did in the last lesson. If someone makes a mistake, you shouldn't punish them, you should try to help build up their confidence so they can hit the ball next time. I think positive encouragement is the best thing a teacher can give.
Being compassionate and showing someone you care about them and their development can make all the difference. People really appreciate it, and it causes them to leave a class feeling uplifted, not defeated.
You can learn more about the fitness instructor insurance policy that Ram, and thousands of other instructors, trust in every year.