For many people, owning an event bartending business is a dream come true. And why not? If mixing and serving drinks is your passion, there's plenty of opportunity out there to turn it into a profitable career. But how do you get started?
In this article, we'll cover a few of the essential things you need to start your own event bartending business to get you on the road to success.
1. Industry Experience
While bartending training and experience is not necessarily required to start your own event bartending business, it can certainly help you be more successful. Whether you gain the knowledge and experience you need at home or choose to enroll in bartending school, there are many ways to familiarize yourself with the bartending industry.
To practice your bartending skills, consider hosting a party for friends and family. Create a cocktail menu and get to work serving beverages to your guests. From there, you can branch out to offer your services to others.
2. Liquor / Bartending License
Depending on your state laws, you may be required to get bartending and liquor licenses when starting your business. Every state is a little different, so you'll need to do some research to learn what you need. You can learn more by checking out your state's department of alcoholic beverage control (DABC).
It's important to note that some states, like California, will not provide bartenders with liquor licenses. This means you will not be authorized by the state to sell alcohol. You can still serve it, but the drinks themselves have to be provided by the event organizers, attendees, or even the venue.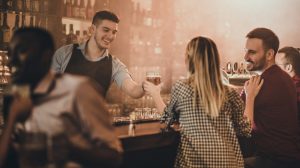 3. Business Registration
Registering your business is an essential part of starting any new venture. Doing so provides your business with liability protection and legal and tax benefits. In order to register your business, you will also need to decide what kind of structure you want your business to have, whether it be an LLC, partnership, or corporation.
Most of the time, registering your business is as simple as registering your business name with your local state government. However, if you want to trademark your business, brand, or any specialty products you may have, you can do that with the U.S. Patent and Trademark office.
4. Bartender Insurance
Speaking of liability protection, you should also purchase bartender insurance before starting your own event bartending business. Bartender insurance is an insurance plan designed to protect bartenders from the risks associated with their business. For example, did you know that, according to some state's dram shop laws, if one of your patrons caused or got involved in an accident you could be legally held liable to pay for it?
Depending on the severity of the accident, liquor-related claims can cost hundreds of thousands—sometimes even millions of dollars—to resolve. Such a claim could financially ruin your new bartending business before it even gets started. That's why you need to protect your business with bartender insurance, which can reduce and even remove the out-of-pocket costs your business may be required to pay for alcohol-related accidents caused by your patrons.
Learn more about bartender insurance
5. Bartending Ingredients & Equipment
You can't make great drinks without great ingredients, and it's even harder to do so without the right equipment. When starting your own event bartending business, it's important to gather everything you need to make your drinks. If you don't know where to start, try making a list of the drinks you want to make. It's okay if it's short—you can always add more drinks later. From there, gather the necessary materials to make those drinks. Besides the liquor itself, some essential tools include…
Drink glasses
Fresh citrus
Jigger
Citrus press
Wine opener
Spirit pourers
Bar spoon
Muddler
Shaker
Hawthorne Strainer
Knife
Good Luck!
We hope this article has helped you get a better idea of how to start your own event bartending business. Remember that while starting a new business can be stressful, it's also exciting, so try to have some fun with it! It's okay to start small, but if you do things right, your business will be growing in no time. Whatever you choose to do, we wish you the best of luck with your new business.
If you haven't purchased bartender insurance, we encourage you to take a look at Insurance Canopy's bartender insurance plan. With liquor liability, general liability, and more, it has the coverage you need to protect your new business from the crippling cost of claims. Plus, it only takes a few minutes to get covered. So what are you waiting for? Protect your business with Insurance Canopy today!