Window Cleaning Insurance
Get Insured in 10 Minutes or Less
Insurance Canopy & Window Cleaning Insurance
Your window cleaning business faces risks every day, such as spills and stains from cleaning solutions, damage to a client's possessions or property from a ladder, and slip-and-fall accidents. Don't let an accident sweep your financial resources away. Get window cleaning liability insurance at an affordable price. Our licensed insurance agents are available to answer any questions you may have about window cleaning business insurance. Contact us today for more information about window washers' insurance.
Digital Certificate of Insurance
With our user-friendly portal, you can download proof of insurance and certificates immediately after purchase! Documents are available 24/7 to redownload.
Optional Tools & Equipment Coverage
Ensure all of your supplies and equipment receive the same coverage. Add Tools & Equipment Coverage to your policy today.
Easily Add Additional Insureds
Add third parties to your policy at the time of purchase, or anytime through your user login! Help give reassurance to property owners or landlords who need coverage under your policy.
Get Peace of Mind with $1M in General Liability
Buy online in minutes.
Get $1M Occurence and $2M Aggregate in General Liability Coverage starting at $27/month.
Still doing your research?
Our licensed agents are available to answer any questions you may have (se habla español)
Maximum Liability Insurance Limits
The most your policy will pay in a 12-month policy period for bodily injury and property damage claims that you become legally obligated to pay due to your business services.
The maximum amount your policy will pay in a 12-month period for bodily injury and property damage claims that result from the products you use to perform your services. However, it does not cover products that are sold, or distributed.
The maximum your policy will pay for a bodily injury or property damage claim that you become legally obligated to pay due to your business services.
The amount that your policy will pay for claims arising out of one or more of the following offenses:
False arrest, detention or imprisonment
Malicious prosecution
Wrongful eviction or wrongful entry
Oral or written publications that slander or libels a person or organization
Oral or written publication or material that violates a person's right of privacy
The use of another's advertising idea in your advertisement
Applies to damage by fire to premises rented to the insured and to damage regardless of cause to premises (including contents) occupied by the insured for 7 days or less.
A general liability coverage that reimburses others, without regard to the insured's liability, for medical or funeral expenses incurred by such persons as a result of bodily injury or death sustained by accident under the conditions specified in the policy.
Optional Coverage Options
Tools & Equipment Coverage
Limits / Occurrence / Aggregate
Tools & Equipment Protection
Your business is your investment. You can add an extra layer of protection to your company by covering your cleaning equipment, supplies, and tools for an additional monthly premium. Your equipment and cleaning supplies are valuable and run the risk of being damaged or stolen. On top of cleaning insurance, Insurance Canopy customers have an option to protect their cleaning essentials for an additional cost. This means that you have coverage for your tools and equipment in case they are damaged or stolen.
Policy Date & Cancellations
Policy Date: Your policy coverage begins on the date that you set as the effective date. The policy effective date is set when you are purchasing your policy.
Cancellations: You may cancel your Insurance Canopy policy at any time, but there is no money-back guarantee on months that you have already paid for.
Digital Insurance Certificate
Many clients want to work with professionals who are insured. If you are bidding on contracts with clients who require insurance, you have come to the right place. Your application can be completed in 10 minutes or less, and Insurance Canopy customers provide a digital version of insurance policy documents immediately after purchase. These documents are available through your online account 24/7. Enjoy the convenience of our user-friendly portal to download your certificate and proof of insurance.
Questions About Window Cleaning Insurance
Choosing the right insurance is critical.
You can't afford gaps in your coverage that could put you out of business.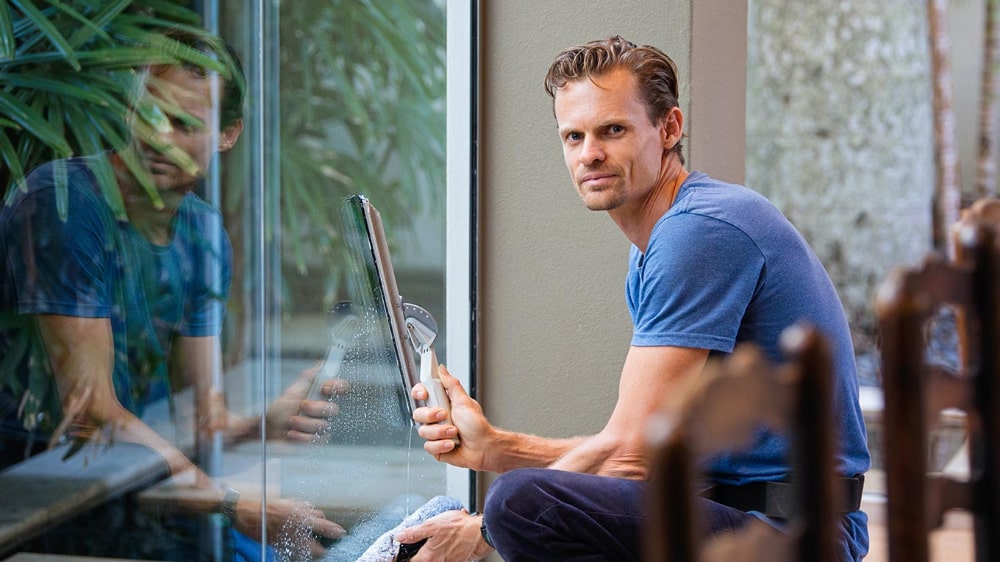 Need additional information before making a decision?
Give our team a call today at 844.520.6993.
Window Cleaning Insurance
Monthly Policy: Starting at $26.67/month – Protect your business and equipment with complete cleaning business insurance! Work with our experts that understand possible claims you will face! Let us be your resource and answer any questions you may have.
Window Cleaning Insurance
Licensed in All 50 States​
As a cleaning professional, you've worked hard to provide the best service for your clients. You probably focus much of your time and energy on everyday tasks like cleaning your…
If you own a cleaning business, you may be familiar with the…
Marketing your house cleaning business can be a daunting task. As a…