Calling all balloon art enthusiasts and creative souls! Are you ready to turn your passion for balloons into a thriving business? Starting a balloon business can be an exciting and rewarding venture, allowing you to showcase your artistic skills while bringing joy to others.
So, how exactly do you start a balloon art business?
That's what we're here to answer today! In this blog, we'll break down how you can start your balloon business in seven steps, from picking a name to protecting your business with liability insurance. Let's dive in!
Step 1: Weigh the Pros and Cons
Before you jump right into starting a balloon business, it's a good idea to weigh the benefits and challenges first to decide if it's the right path for you.
Flexible Schedule: Starting a balloon business means setting your own working hours. You decide which gigs you'll work and which you won't, as well as what days you want to take off during the week. The hours will likely vary a lot depending on when your gigs are, but having the freedom to accept or turn down jobs can give you more freedom with your personal time away from work.
Growing Industry: Did you know that the global market for party balloons is expected to grow by 4.8% between 2022 and 2028? While the pandemic of 2020 caused a dip in demand for balloons, people are back to gathering and throwing parties, which means more opportunities for balloon artists like yourself.
Creative: Something that draws people to the balloon business is the creative nature of it. As a balloon artist, you can create an endless number of fun balloon sculptures and constantly challenge yourself to improve your craft. Japanese artist Masayoshi Matsumoto creates highly detailed balloon sculptures of animals and insects that prove how creative and innovative you can be in this field.
Makes People Happy: If you become a balloon artist, you will be traveling around to perform at different parties and entertain guests. Being part of making a party an enjoyable and memorable experience can be extremely rewarding and can help you feel more fulfilled by your career, which is crucial to avoiding burnout.
Competition: Because the balloon business is so profitable, you will face a lot of competition for clients. It's crucial to be able to create a wide variety of balloon sculptures and to stay on top of any industry trends in order to compete with other businesses in your area.
Environmental Concerns: In recent years, there has been heightened publicity surrounding plastics and their effects on the environment. The latex material you'll likely be working with as a balloon artist is not biodegradable and if wild animals ingest it, the material can block their digestive tract and cause them to starve. It's very important that you dispose of balloons in the trash properly to reduce possible negative environmental effects.
Before diving into the business side of things, it's crucial to master the art of balloon twisting so you can impress clients and partygoers. Practice different techniques, experiment with various designs, and let your imagination run wild! Attend workshops, watch tutorials, or even join a local balloon artist community to learn from others and enhance your repertoire.
There may be some in-person balloon art classes near you, but if that isn't an option there are plenty of online courses you can take to build your skills, including Balloon Art Online and Balloon Classes Online. You can even find free tutorials for basic sculptures like flowers, dogs, and swords on YouTube if you're just starting out and need to learn the classics.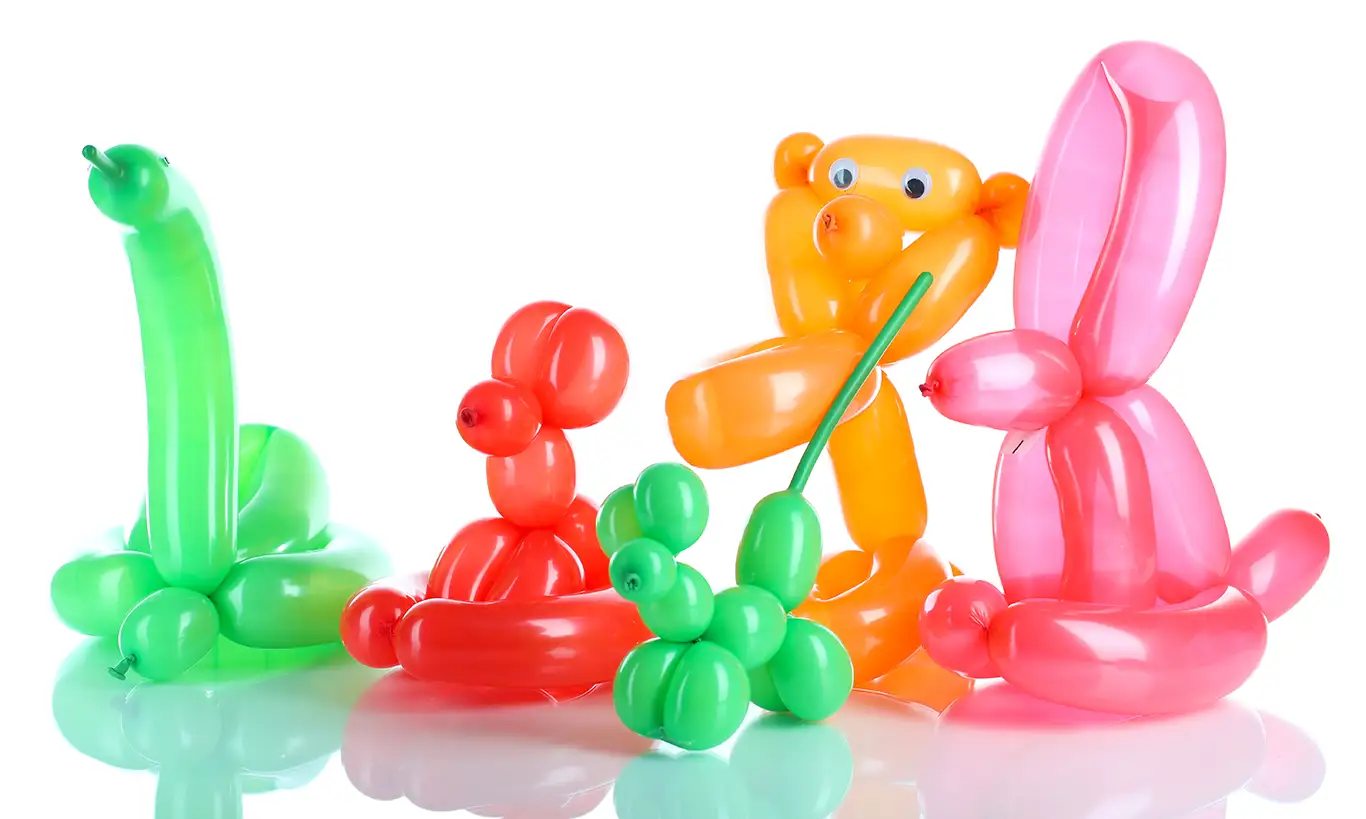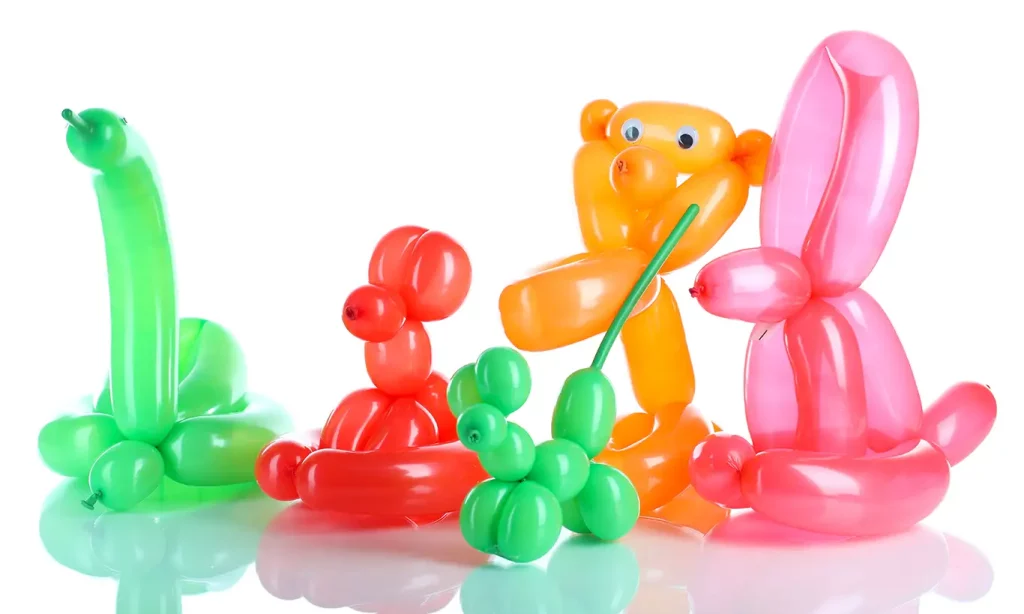 Step 3: Name Your Business
Once you've decided that starting a balloon business is right for you and you have the skills to be successful, it's time to name your business!
Have fun with this part! Your job as a balloon business will be to spread joy, so your name should reflect that. Here are a few tips for creating the perfect name:
Keep it short and sweet—longer names are harder for your clients to remember.
Include SEO-friendly keywords to boost your search rankings.
Ask friends and family to weigh in on names you've come up with, or ask them for suggestions.
Use this balloon business name generator! This can be a great brainstorming tool to use, even if you don't end up going with any of the names it creates for you.
Step 4: Create a Business Plan
Every successful business venture starts with a solid plan, and a balloon business is no exception. Having a thought-out business plan will keep you focused and organized as you launch your balloon business.
Outline your goals, identify potential challenges, and determine your pricing strategy. Most balloon businesses have a profit margin between 50–60%, so keep that in mind when setting your prices. Do your research to see what other balloon businesses in your area are charging for the same services to be sure your prices are competitive.
You'll also need to create a marketing plan in order to attract clients. The first step is to identify your target market—as a balloon artist, that'll likely be people throwing private events and parties, especially birthday parties for children.
When it comes to marketing a balloon business, having a Google Business Profile can be a great starting point. Creating one doesn't cost you anything, and it will allow you to control how your business shows up in search results. You can add your location, contact details, hours of operation, and a description of your business so you stand out to potential customers.
Building your online presence beyond a Google Business Profile is essential to your balloon business' success. Social media is an excellent way to reach potential customers, and platforms like Facebook and Instagram have paid advertising options that can help get more eyes on your business.
In general, updating your social media profiles frequently with photos from events you book and even videos of you making different balloon sculptures will help people connect with you and build interest in your business, which can lead to more gigs in the future.
Apart from having a social media presence, you'll want to set up an official website for your business as well. Beyond simply having your contact information and a description of your services, your website should be optimized for SEO in order to appear higher in search results for balloon artists.
You can hire a web designer to create a website for you, or if you are on a tighter budget you can use platforms like Squarespace or Wix to build your own website. These platforms also have their own SEO tools to help you build a site that will rank well, which can lead to more people finding your business and booking you for gigs.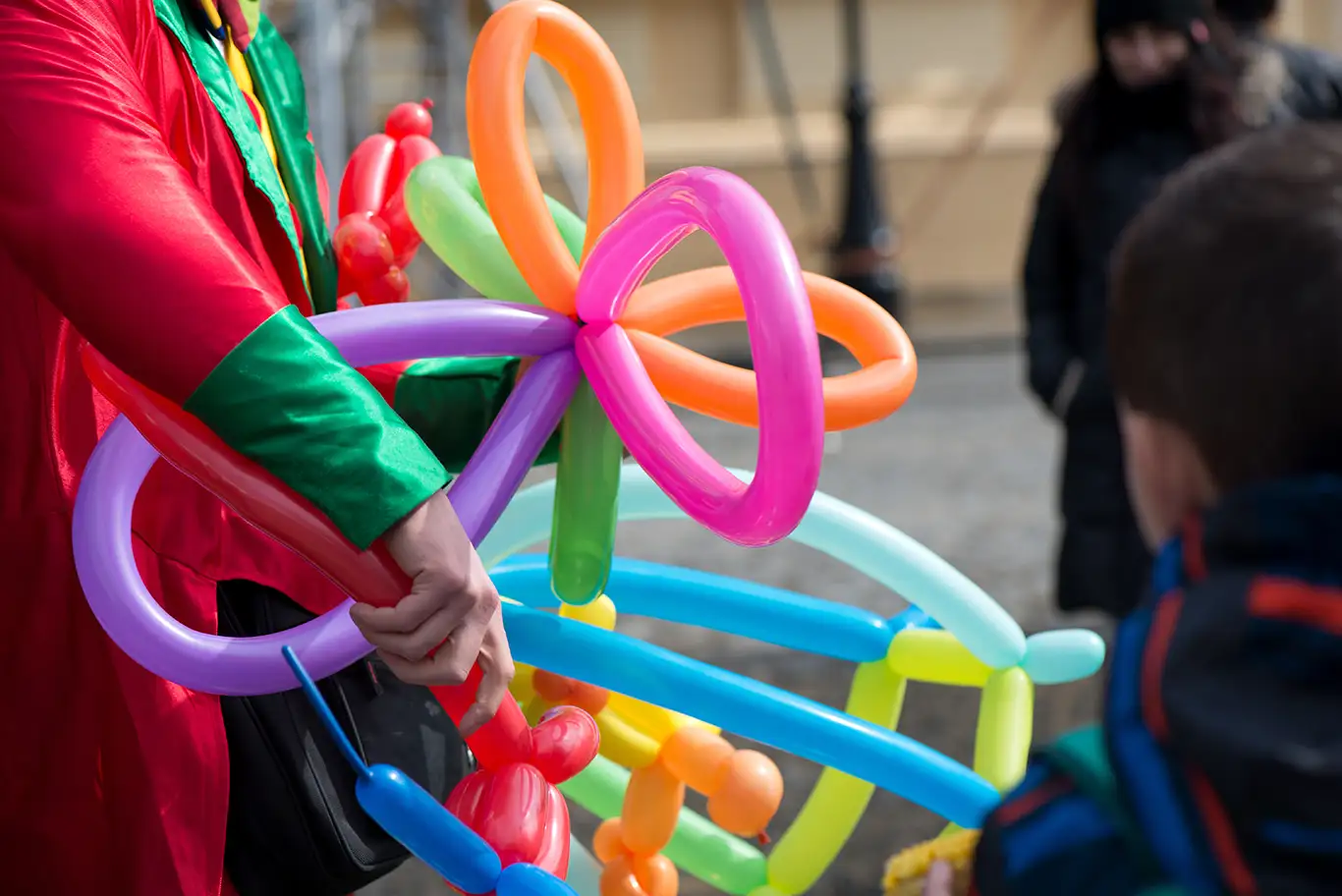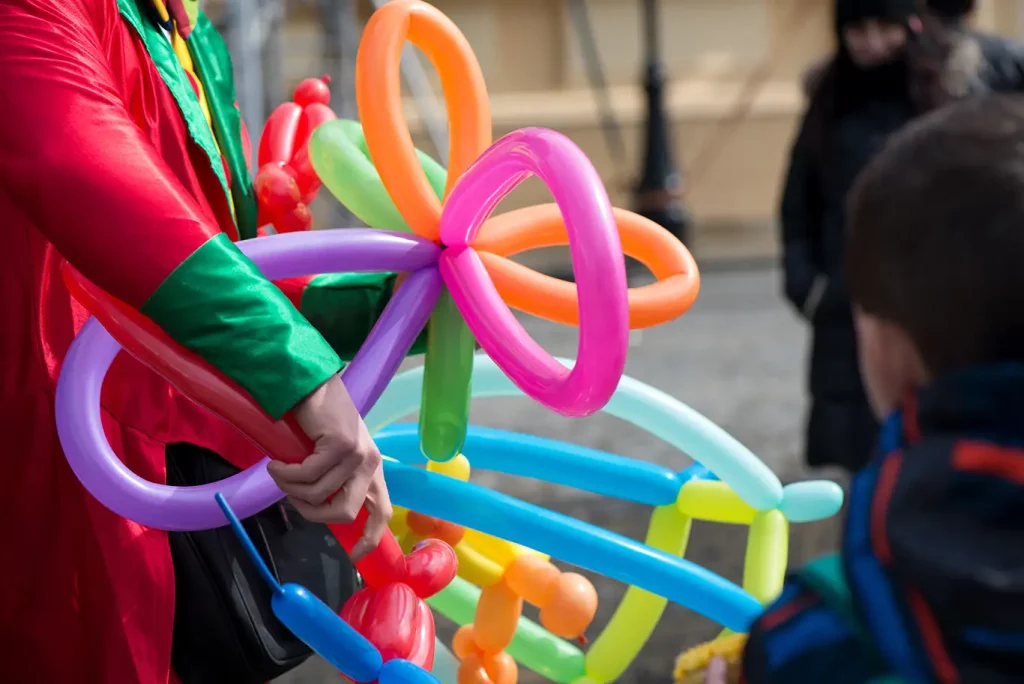 To bring your balloon creations to life, you'll need the right tools of the trade.
The most essential supplies you'll need are balloons, an air pump, and scissors. While you can buy balloons at any party store, it's worth it to invest in high-quality balloons that won't pop easily while you're twisting them into various shapes.
One brand to look for is Qualatex, which has been trusted by balloon art professionals for years and offers a wide variety of colors and sizes of latex balloons.
While you can get a hand pump for blowing up balloons, it's probably a worthwhile investment to buy an electric pump instead to save yourself the physical strain. Since you could be making balloons at an event for hours at a time, pumping them with air by hand can get exhausting quickly.
Additionally, you may want to purchase permanent markers for drawing faces and designs on your balloon art. Sometimes this little detail can take your balloon art to the next level and delight partygoers even more.
Step 6: License and Insure Your Business
One of the most important steps to setting up any business is filling out all the necessary paperwork.
Start by visiting the U.S. Small Business Administration site to see if you need to register your business. Registering your business makes it an official legal entity, and unless you are going to conduct your business under your legal name you will need to register the name of your business with state and local governments.
You'll also need some combination of licenses and permits in order to run your business. These will come from both the federal and state governments, so depending on where you live the type of licenses you need will vary.
After registering your business and getting all the necessary licenses in order, you'll want to purchase liability insurance. Being a balloon artist can be a very fun and exciting career, but it comes with its fair share of unique risks that could end up financially ruining your business.
If you're performing at a party and a child trips over your air pump and injures themselves, you could be held liable for paying their medical expenses. Additionally, if you're performing at a client's house and accidentally damage their property, they could hold you financially responsible to repair or replace what was damaged.
By having balloon artist insurance, you can protect yourself from these kinds of costly claims and keep the party going with peace of mind. At Insurance Canopy, you can get annual coverage starting at $199 per year or one- to three-day event coverage from $59 in ten minutes or less with our painless online application process.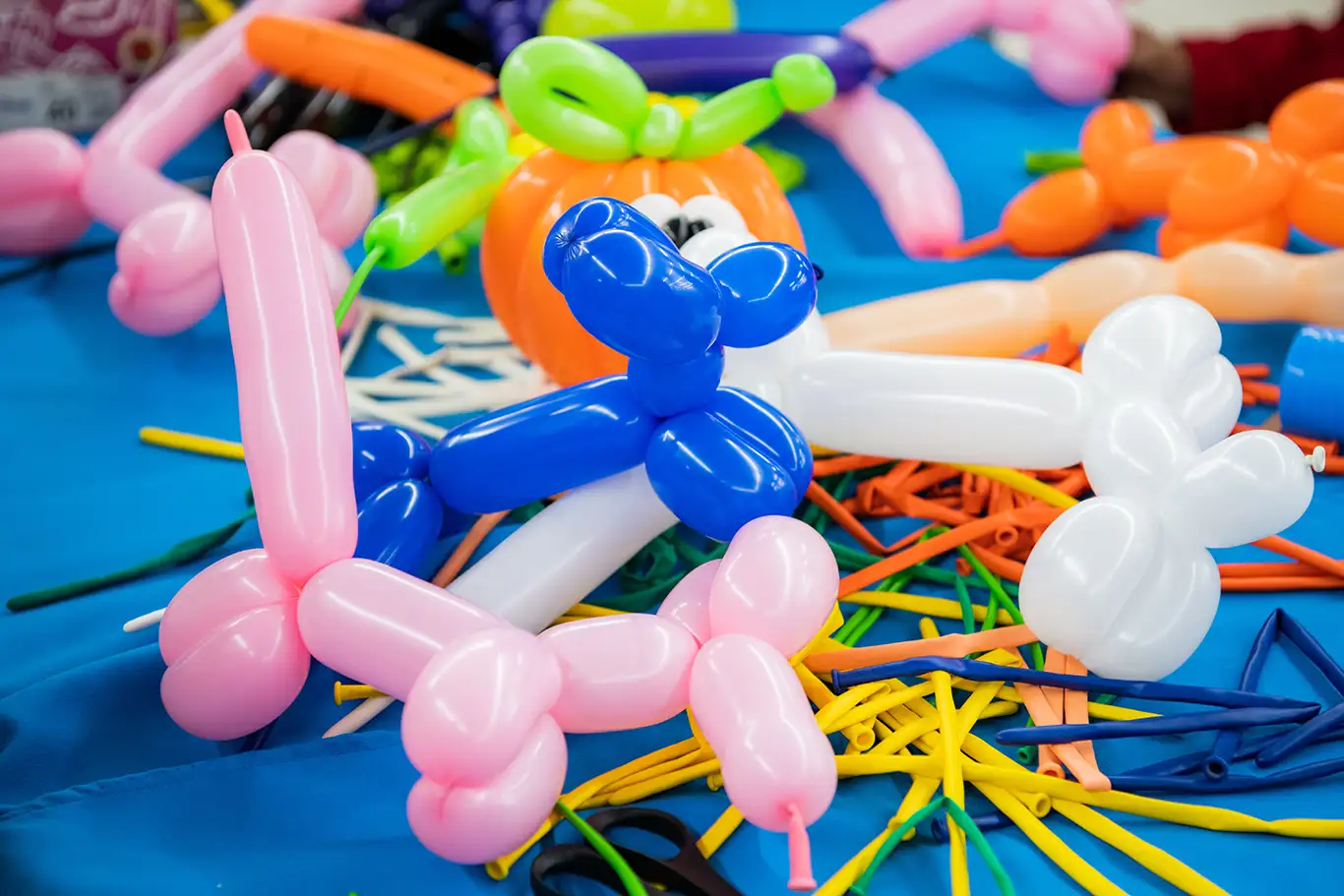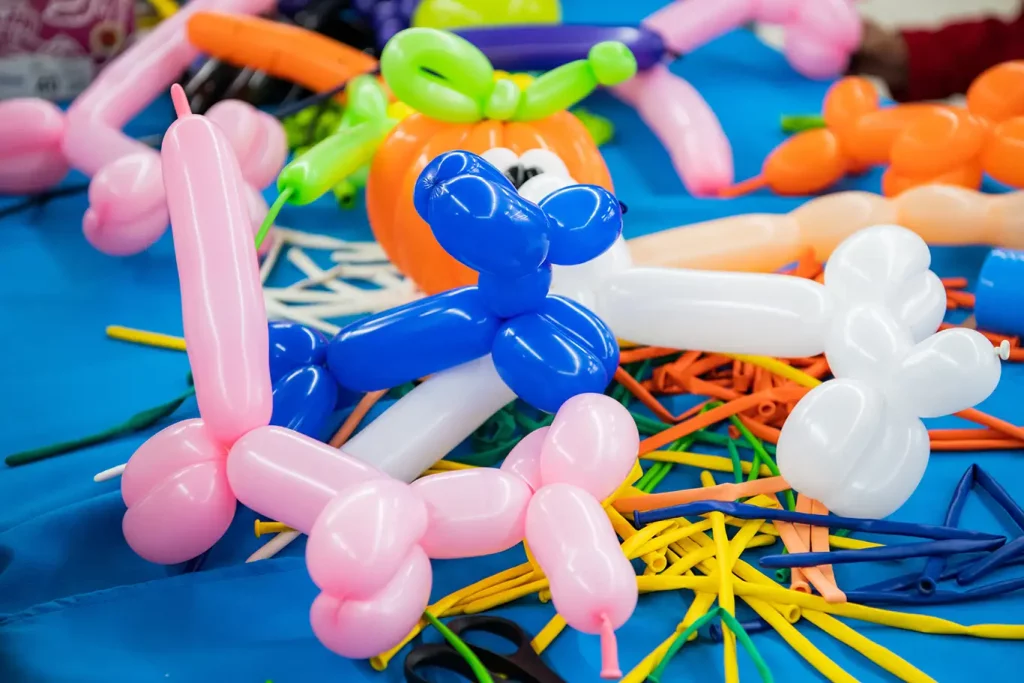 Step 7: Build Your Network
Networking is key to growing your balloon business and finding work. Word of mouth can be a powerful tool when it comes to booking gigs and getting new clients, so building connections with others in your industry is a valuable use of your time.
Attending local conventions with professionals from the event or party planning industries can put you in touch with people who may be able to recommend you to a client of theirs looking into hiring a balloon artist.
While networking is best done in person, you aren't limited to traveling to conventions in order to make connections. There are several balloon artist groups on Facebook like Balloon Artist and The Balloon Artistes Guild where you can chat with other people in the balloon business and stay in the know about any industry happenings.
Being a balloon artist can be an exciting, rewarding, and highly creative career. Starting your own balloon art business is no small feat but if you have a passion for your craft and follow these steps, you can accomplish that dream and be well on your way to spreading joy at parties and events.
Of course, don't let expensive liability claims burst your bubble—make sure you get your business covered with balloon artist insurance today!