As a DJ, you're the life of the party. Whether you're DJing a wedding, festival, or club, you know just what to play to keep people feeling good and dancing for hours. 
The best DJs are always trying to keep things fresh by adding new music to their collection. To pick the best tracks for the occasion, you need to have a good pool to choose from. With so many different places to find new music, it can be overwhelming at first to know where to start. Today, we'll break down how to manage your digital music collection and the top sources for DJ tracks, including where you can find some music for free..
Tips For Building Your DJ Music Library
Before we take a look at where to find music, let's talk about building and managing your music library. After all, it's much easier to create an organized collection from the start versus sorting through thousands of tracks you've acquired over the years. Here are a few pro tips to make that ongoing process a bit easier:
It's not about the number of DJ tracks you own, it's about how likely you are to use those tracks that matters most. It can be really easy to build up a massive music library, only to realize you only ever plan on using a fraction of it. 
Additionally, make sure the tracks you're downloading are high quality. You should always listen to tracks fully before you choose to add them to your library. After all, it might not be the version you're looking for, end early, or simply not sound good.
Don't Settle For One Version
When you find a song you like, seek out multiple versions of it (club mixes, radio mixes, clean mixes, instrumentals, etc.). Having different versions of the same song will give you more flexibility when you're building your sets for different events and occasions. A version you'd play at a club might not be the same one you'd play at a wedding, for example.
Since today's DJ music libraries are primarily digital, you'll want to know some of the ins and outs of managing that collection. Some basic principles you should be familiar with include:
How to back up your library and DJ software database

Where you can find the metadata for each music file you own (metadata includes the artist and album name, BPM, artwork, etc.)

Where your music files live on your computer and where to back them up

What location does your DJ software store information about the tracks you've imported
Knowing the answers to these questions will help you stay organized and on top of your ever-expanding music library. Now let's take a look at where you can find new tunes.
Best Platforms For Discovering New Music
The first step to adding new music to your collection is discovering it. Sounds easy, right? However, even DJs can find themselves playing their same favorite tracks and artists over and over again, which makes it hard to branch out and gather new material. Sometimes it's just a matter of exploring new platforms that make it easier to come across new music. Check out some of the most widely used and affordable ones below.
With over 551 million active monthly listeners, Spotify is one of the most popular music streaming services available today. On this platform, you'll find Spotify Official playlists in addition to those created by users that curate songs around a genre, artist, feeling, etc. Spotify also allows you to follow artists you love and receive notifications when your faves release new music, so you'll always be in the know. 
Launched in 2014, TIDAL boasts a catalog of over 100 million songs plus editorial and user-created playlists, much like Spotify. Users must choose from two paid subscription options, HiFi and HiFi Plus, but can enjoy a 30-day free trial after signing up.
It's no secret that TikTok has changed the music industry. Global superstars like Lil Nas X and Olivia Rodrigo originally blew up on this platform and owe much of their early success to the app. By creating a TikTok account, you can use hashtags to find new music in a specific genre or simply by scrolling through videos and paying attention to which songs people are using.
Considered to be a social network as much as it is a music streaming service, SoundCloud is a great way to follow both new and well-established artists. Many of them will use this platform to share remixes of their existing songs in addition to new tracks. Explore trending playlists and search by genre to find fresh tunes for your set.
YouTube isn't just a great way to watch music videos from top artists and those on the up-and-up, it's also a handy way for you to follow other DJs and watch their live performances. Subscribe to your favorite channels and keep a finger on the pulse of new music and what others in the industry are up to.
Ever heard a catchy song playing while you were out and about that you didn't know, but wished you did? That's where Shazam comes in handy. Just open the app, hit the button, and it'll tell you the song title, artist name, and where you can find it on other streaming platforms.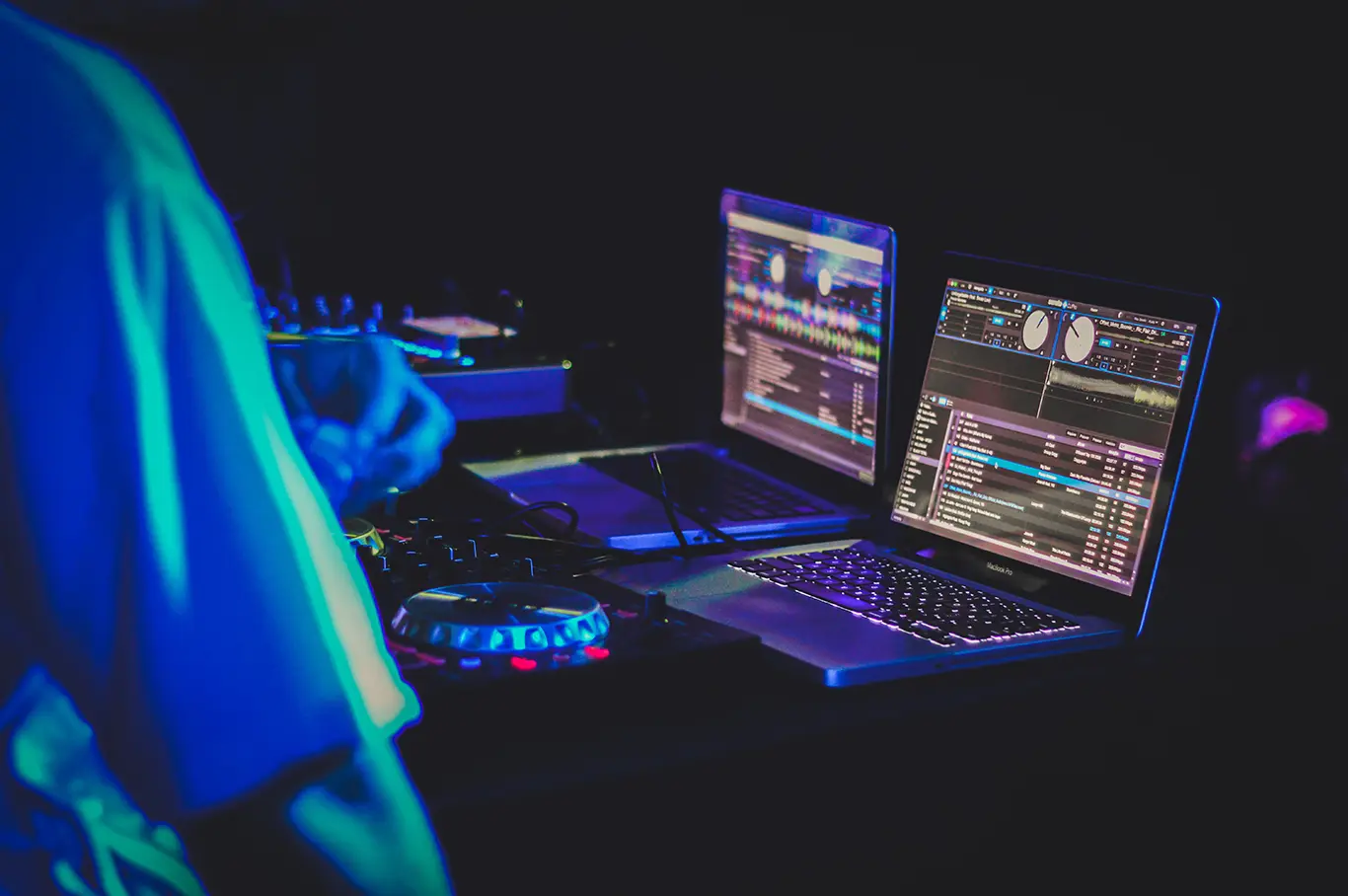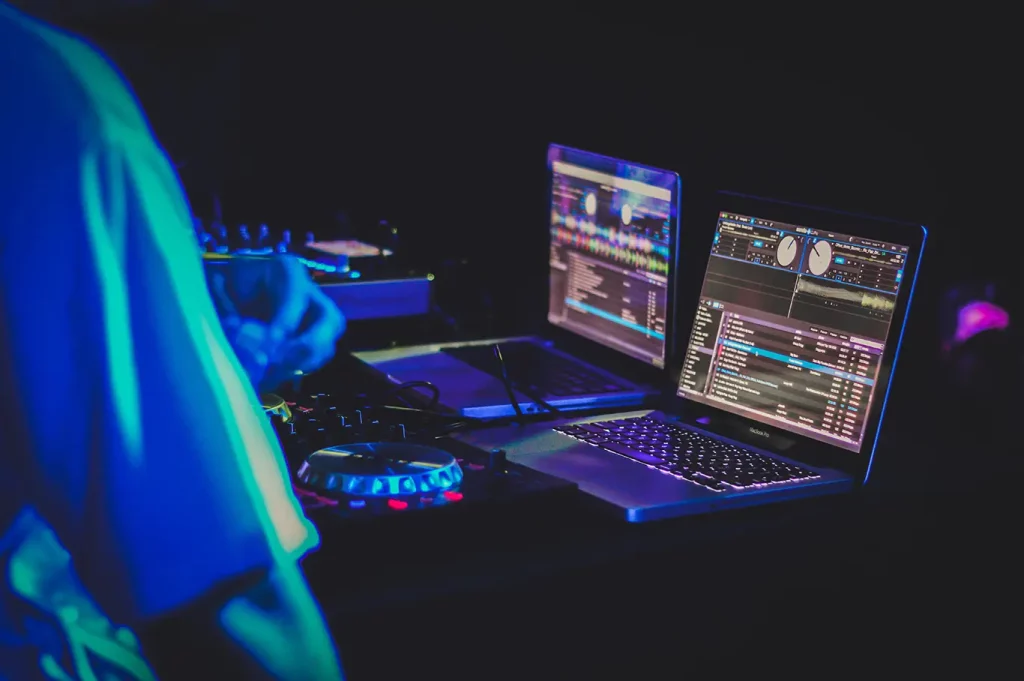 Once you've found some new tunes to add to your collection, you'll likely need to purchase them to use them in your set. It's important to get familiar with music copyright laws as a DJ because you run the risk of infringing on them if you play an artist's music for the public without a public performance license. 
Let's take a look at some of the best places to purchase music to use in your sets:
If you're a working DJ, you should be utilizing DJ record pools to add to your music library. Record pools are subscription-based sites that provide unlimited MP3 downloads per month, quarter, or year. They're great places to find exclusive remixes that you won't find elsewhere, samples, acapellas, and DJ drops. Keep in mind many of these services are not open to the public and do require you to prove you're a DJ. Some of the top record pools today include:
BPM Supreme

ZIPDJ

Digital Music Pool (DMP)

DJ City
One of the original digital music download stores, iTunes remains a major player in this space with low prices on individual songs and albums.
Much like iTunes, Amazon Music offers a massive catalog and competitive prices. 
Unlike iTunes and Amazon, Beatport is set up primarily for DJs. Boasting over 11 million tracks, this platform partners with big labels to acquire new music shortly after it's released. 
On Bandcamp, artists upload their music directly to their own online store and set prices for digital downloads. Artists also receive instant payment when someone purchases their work, unlike most other platforms.
Since 2002, Boomkat has operated as an independent online record store. Not only do they offer digital music downloads, but it's also a great place to purchase vinyls, CDs, and even cassettes.
Created by DJs, Traxsource is an excellent source of house music from underground emerging artists as well as global superstars.
Boasting a wide range of genres from electronic to Krautrock, Bleep is similar to Boomkat as you can also purchase physical copies of music you like in addition to digital downloads.
If you're looking for independent dance music, Juno Download is the place to go. Not only do they offer DRM-free tracks in a plethora of file formats (WAV, MP3, FLAC, ALAC, and AIFF), they also allow you to follow artists and labels you like.
While most of the music you'll play in your sets will be purchased, there are a few ways to download tracks for free. 
While you're discovering new music on SoundCloud, new artists are hoping you'll stumble across their tracks. As a result, you might find some music and remixes available for free download in the hopes that the artist will get more exposure this way.
Some artists may even release their music under Creative Commons (CC) licenses, which allow you to use it for free. It's important to ensure that the music you want to use is under a Creative Commons license that allows you to use it in remixes and samples. For example, if it's under a noncommercial license, you won't be able to use the song in any way that you could profit from.
Here are some of the most popular sites to find music with a CC license:
CCTrax

ccMixter

Freesound

SectionZ

Jamendo

Opsound
Exactly as the name suggests, this platform is a great spot for free MP3s. You can even purchase a license for royalty-free music and find some Creative Commons-licensed music at no cost.
Whether you're just starting out or looking for fresh material, there's no shortage of platforms to find the perfect DJ tracks to play during your next set. But before you book your next gig, be sure you can focus on the jams and not on costly claims by purchasing DJ insurance. 
As a working DJ, you may encounter unique liability risks related to setting up your equipment at shows, transporting it between venues, and protecting it against theft. Some venues might also require you to show proof of insurance before allowing you to perform.
Insurance Canopy offers a basic general liability DJ insurance policy at just $16 per month or $192 per year. Add equipment insurance coverage or additional insureds to your policy with ease. 
Don't let accidental damage to the venue or a broken speaker stop the party. Get your free quote now!