Starting your DJ career can seem a bit daunting. But it doesn't have to be. To help you along your DJ journey, we've created this guide to help you decide on the best beginner DJ equipment for your business. So before you swipe that card, pull out your wallet, or tap that Apple Pay, let's learn more about the pieces of equipment that you might need. 
In this guide, we'll cover 
Different DJ setups 

The type of equipment you might need

The price of the equipment

A little bonus tip (hint, you won't want to miss it)
The best beginner DJ equipment includes
Speakers

Mixer

Turntables

Headphones

Laptop

DJ Software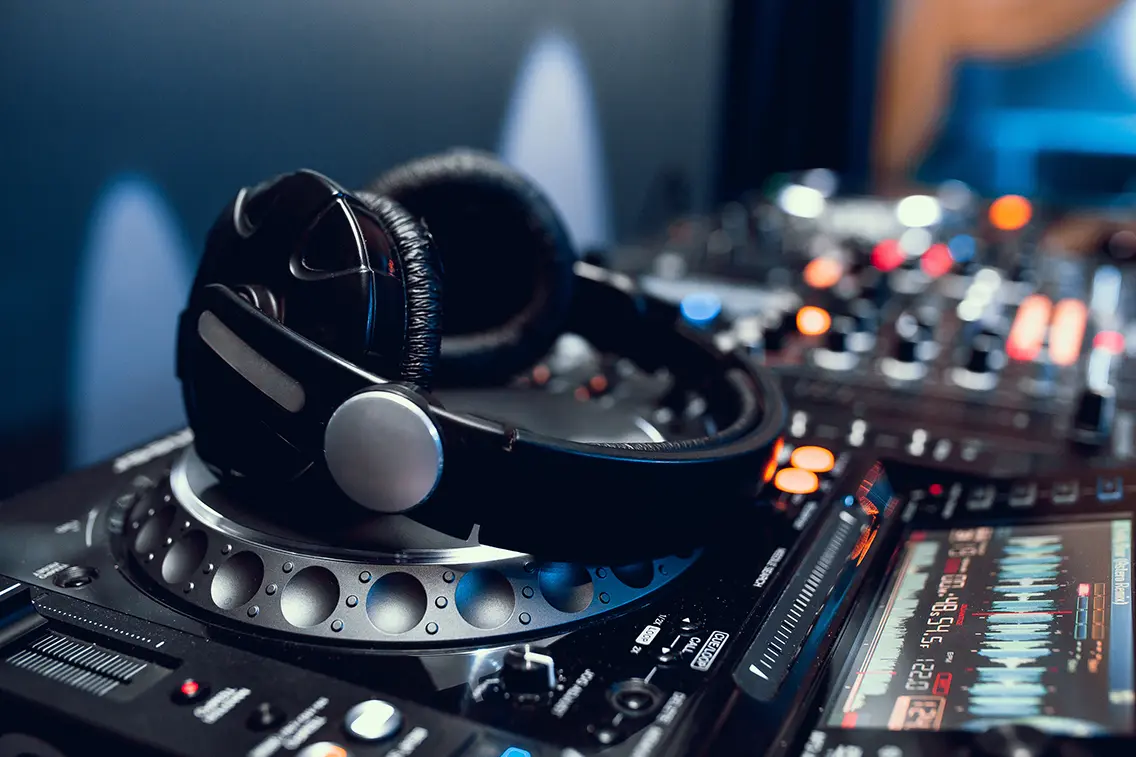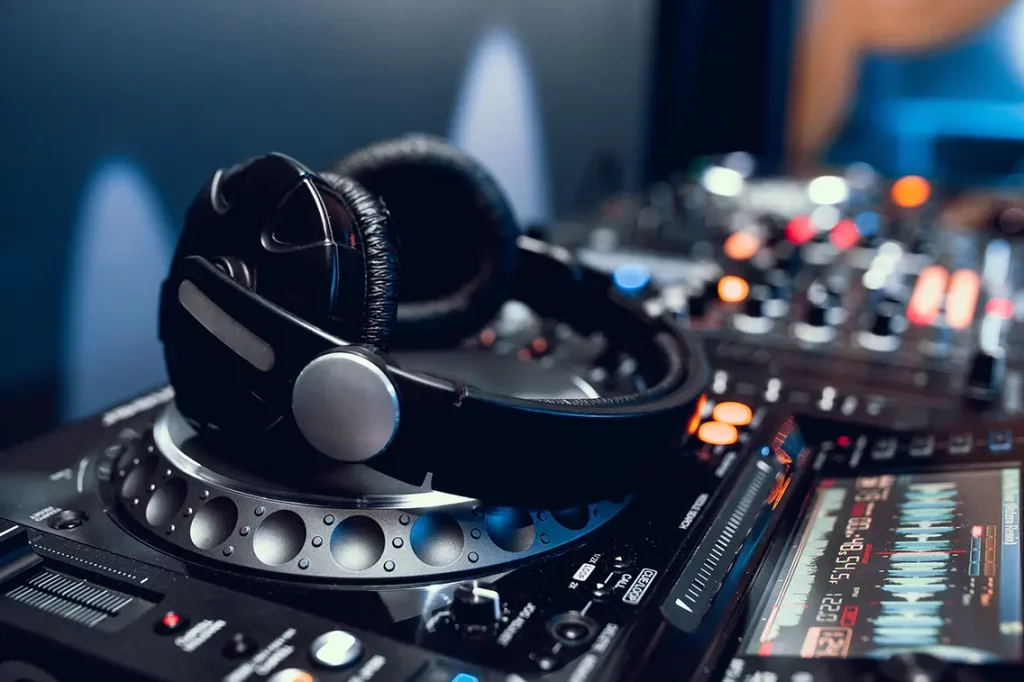 What Are The Different DJ Set-Ups?
A DJ setup can vary depending on your tastes, DJ skill level, and the gigs you book. The different DJ setups can include a laptop & DJ controller, standalone all-in-one systems, digital vinyl systems, phone and tablet DJing, record decks and a mixer, and pro DJ setups. 
Each of these setups requires different types of equipment or even a combination of equipment pieces. Your DJ setup will most likely be unique to your business. 
Now that we know the different DJ setups, let's dive into the types of equipment you might need to start your DJ career. 
When building your DJ setup it is important to keep in mind how easy it is to use if it fits your price range, how durable it is, and if the features fit your DJing needs. 
Best Equipment For Beginner DJs
As a DJ, high-quality sound is everything. A good speaker can really take your business to the next level and show your audience that your music is the life of the party. Based on research, the best speaker for your money and DJ needs is the versatile Turbosound iQ10. 
This speaker features 2,500 watts of power, a 2-way design, and includes a two-channel Klark Teknik class D amplifier, a 10-inch low-frequency driver, a low mass voice coil, and a 1-inch compression driver with a copper-clad aluminum voice coil. Impressive right? 
This mighty, yet portable speaker is a great option if you're just starting out or are a seasoned DJ. This speaker starts at $699.
After some thorough research, we've deemed the Pioneer DJ DJM-250MK2 as the best beginner DJ mixer. This mixer features a vast range of abilities. This can help you hone your skills and experiment with new styles.
With this mixer, you can connect CDs or turntables and also mix tracks digitally. The Pioneer DJ mixer starts at $389.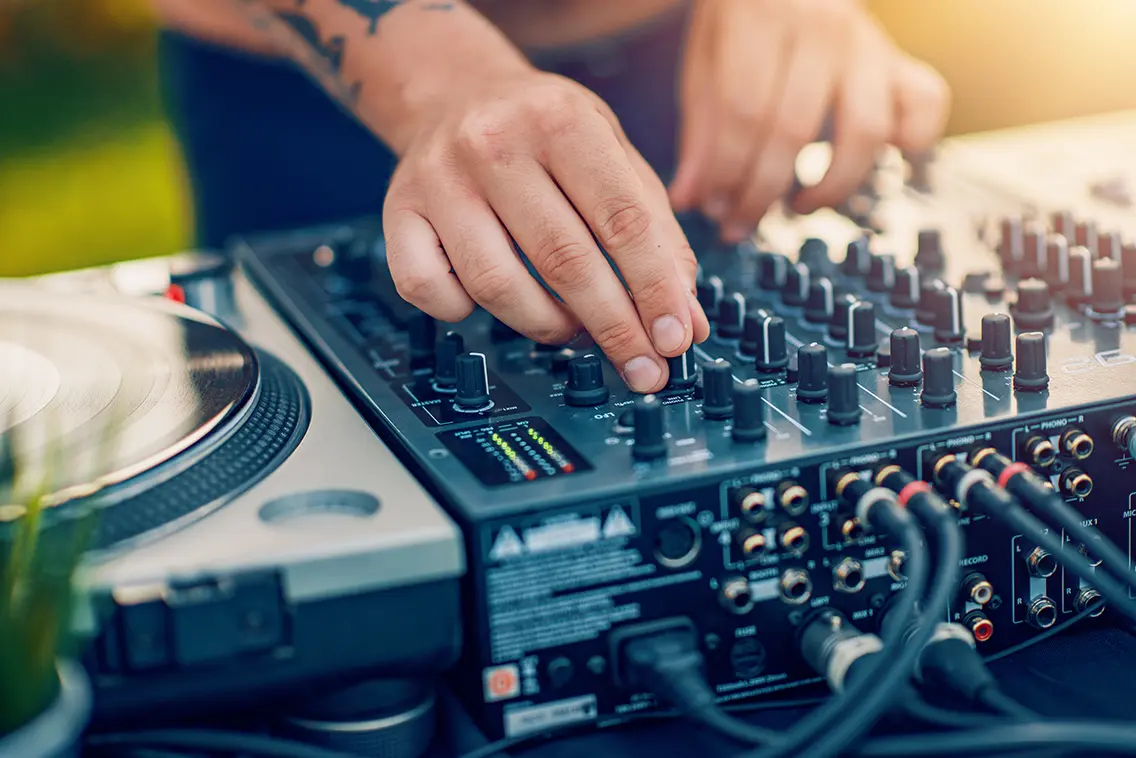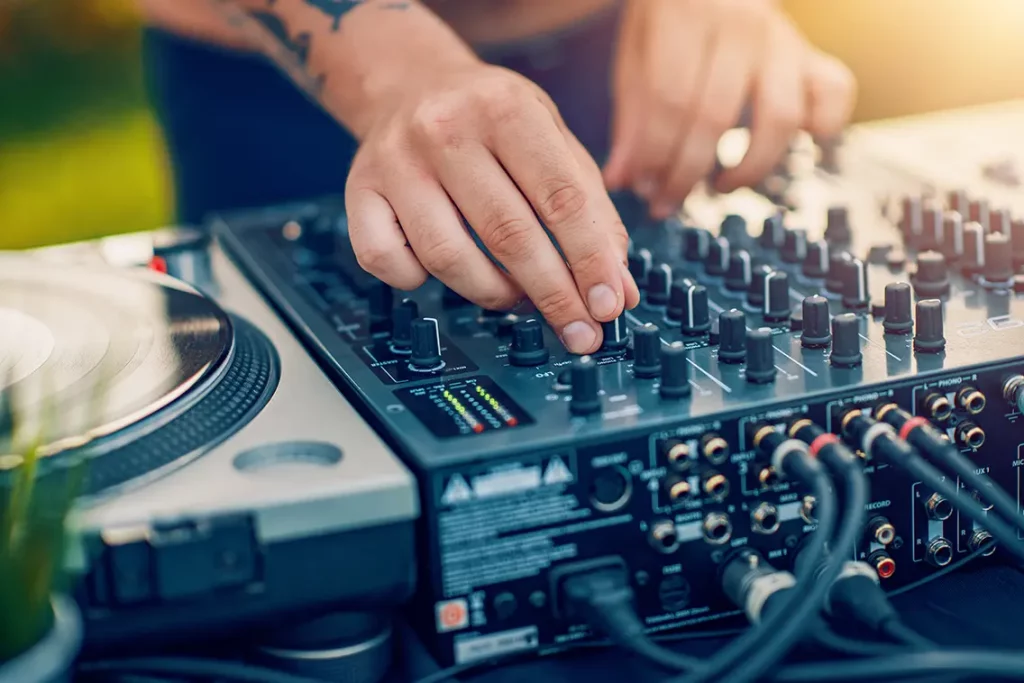 For the best entry-level turntable check out the Pioneer DJ PLX-500. This turntable starts and stops at high speeds, features great sound, and is priced fairly. Pioneer is the leading brand in DJ equipment and rightfully so. This turntable offers everything you may need to start your DJ career. 
Your turntable is a great asset to your DJ setup and this one offers a manageable learning curve, getting you mixing tracks in no time. This turntable starts at $449.
When it comes to headphones, you'll want a pair that will protect your ears and let you hear your music clearly. The most affordable pair of headphones we could find that gives the best frequency and allows you to make the best decisions for your music is the Audio-Technica ATH-M30x. 
These headphones are comfortable, foldable, deliver great sound, and have a powerful low end. The Audio-Technica headphones start at $79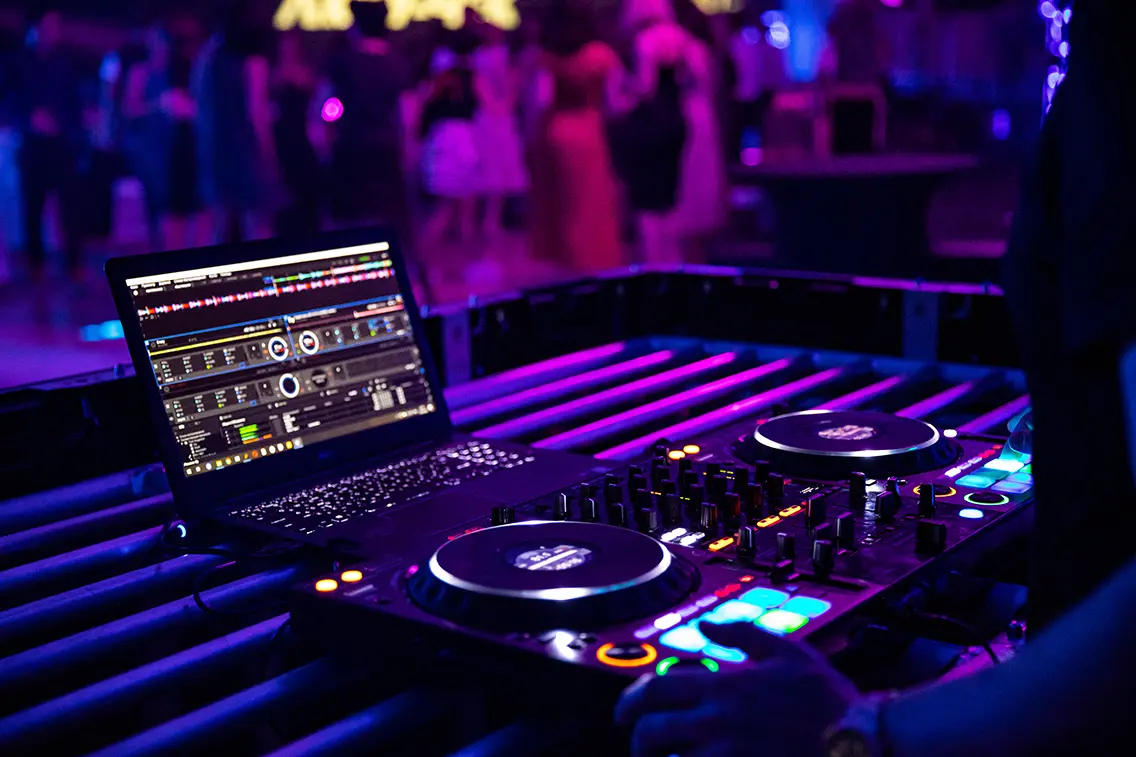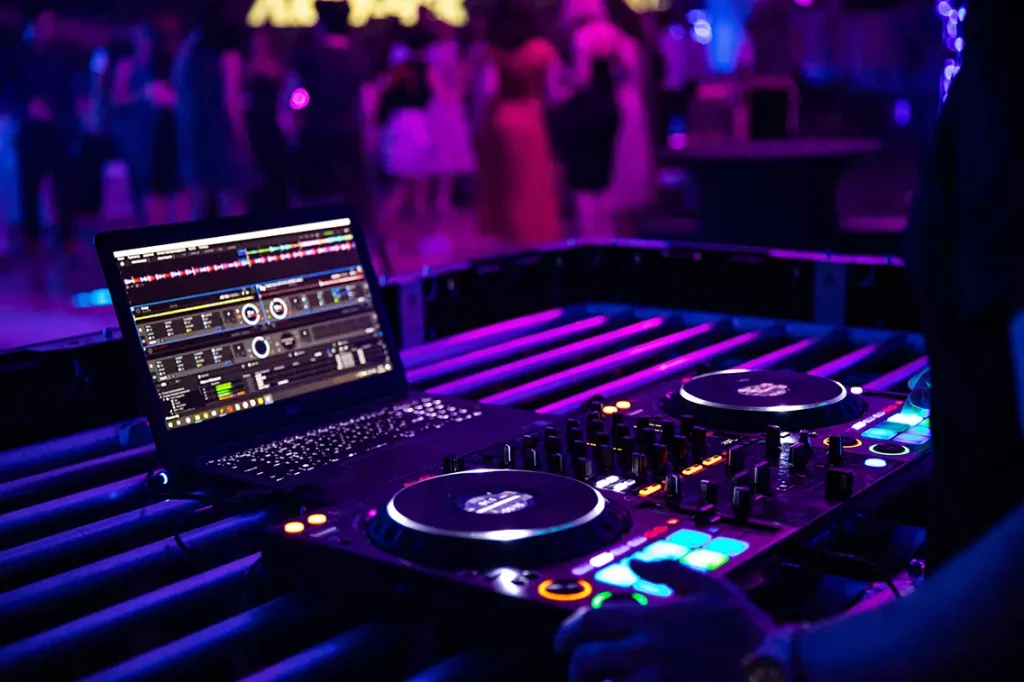 The best laptop for beginner DJs is the MacBook Pro from Apple. This comes in at number one because of its long battery life and if taken care of correctly, can last you 4 to 6 years. The MacBook Pro is compatible with many different types of software and editing programs. 
The MacBook Pro is pricier than other laptop options but it comes with a great lineup of features. It has three Thunderbolt 4 ports, a professional three-mic array, and Spatial Audio that features six speakers. so you can feel confident that your laptop can cover your DJ needs. The MacBook Pro starts at $1999.
For the best beginner DJ software, we introduce Serato DJ. This entry-level software is a great option for beginner DJs, featuring easy navigation, and a beautiful interface. This software grows with you. Serato DJ has both a free version and a subscription version that includes a few more features. 
This software just went through a recent update, allowing DJs to isolate pieces of a track. Meaning, you can take out the drums, bass, vocals, or melodies of a track. The subscription for this software starts at $129 per year or $9.99 per month. If you're unsure if this is the right DJ software for you, they offer a free 14-day trial.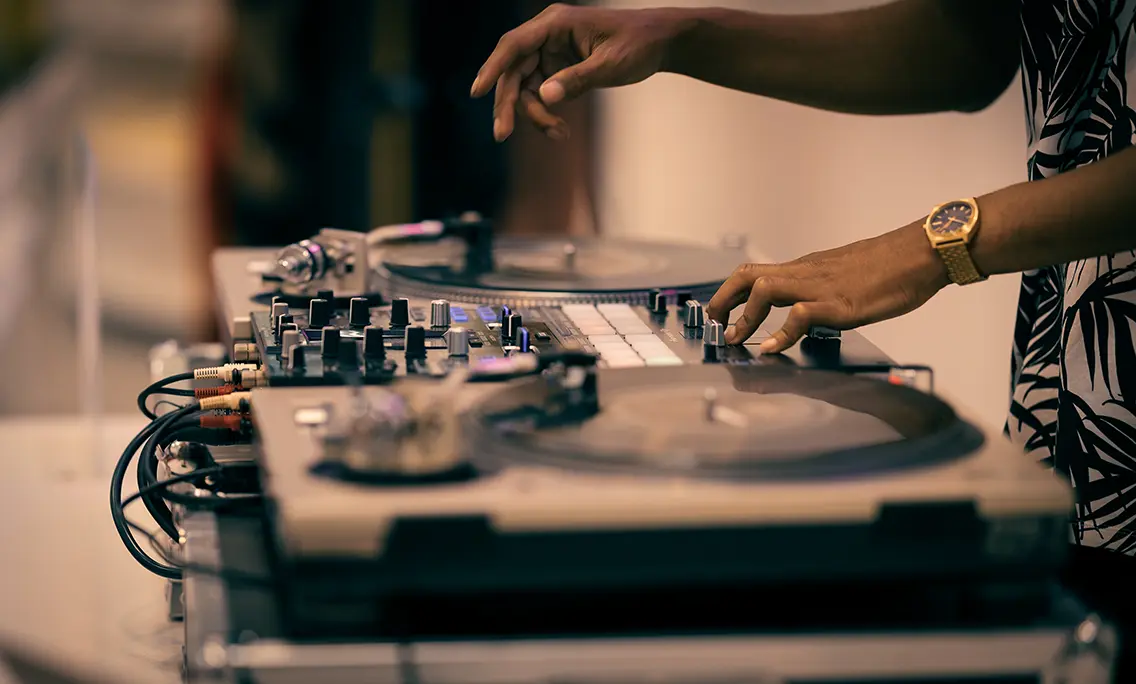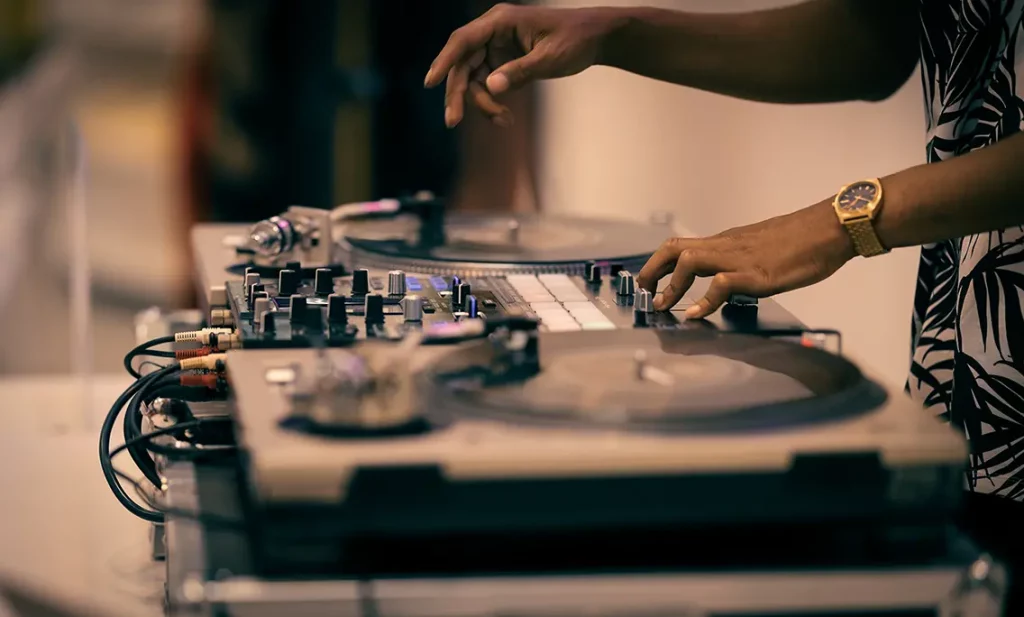 Bonus Tip For Beginner DJ Equipment
Now that you know the different types of equipment that you might need as a beginner DJ star, let's dive into how you can protect your equipment. Yes, you read that right! There is a way to protect all of your expensive and critical DJ equipment. 
Protecting your equipment is quick and easy. All you have to do is purchase a DJ insurance policy. Insurance Canopy offers DJs a great way to protect all sides of their business through a combination of insurance coverages. Your policy could include General Liability, Professional Liability, Personal and Advertising Injury coverage, Damage to Premises Rented to You coverage, and Equipment and Gear (Inland Marine) insurance. 
We understand that your business is unique and one policy that fits another business, may not fit yours. That is why we offer customizable policies. You can increase your coverage limits and add coverages, creating a policy that not only fits your business needs but protects your business.  
The way DJ equipment insurance works is that it can mitigate or even eliminate the out-of-pocket costs of damaged or stolen equipment. 
You may be thinking, "Well I'm just starting out. I think my equipment will be fine." We understand that starting your business is a big investment. But trust us, paying for damaged equipment just after you purchased it is not fun. 
Here are some examples of DJ equipment insurance claims that you could face.
A DJ experienced damaged subwoofers – their claim was $3,743.

A DJ's equipment hit and damaged the venue doors – their claim was $850.

On their way to a gig, a DJ's speakers and turntables were damaged – their claim was $613.

While setting up for a gig, a DJ's equipment caused damage to a client's space – their claim was $416. 

Rain damaged the audio and lighting equipment of a DJ – their claim was $99.
So, now that you know that equipment claims can be expensive, it's time to take action and protect your business from unnecessary expenses. Add DJ equipment insurance to your policy today!