"The world is your oyster," is a saying originating from the Shakespeare play The Merry Wives of Windsor. This is especially relevant in today's world of e-commerce.
Online retailer websites have become commonplace—becoming the preferred method of distribution and retail for small businesses worldwide.
While this is an excellent opportunity for a small business to expand, it does come with additional risks and costs that you may have yet to consider.
Some things to keep in mind include website contracts, insurance for online retailers, and product quality assurance standards for other countries that you may not be aware of.
Let's explore this further.
Online Marketplace Contracts
Nearly all the major online marketplaces—such as Amazon, Etsy, and eBay—require insurance contracts for sellers.
More recently, these online marketplaces are refusing to cover product liability claims caused by sellers. In other cases, they are requiring sellers to reimburse the company for the costs of the claim. 
Many of these instances are being written in to the Terms & Conditions you agree to when you first sign up to be a seller. It can be easy to miss when you are looking through pages of fine print documents.
Be sure to fully read any of the contracts you agree to and make certain your business complies. Failure to do so can result in your product being removed or your business being banned from the site.
What's more important, even if they don't require it by contract, you as the seller remain liable for any product liability claims. This means a product you made or sold caused bodily injury or property damage to a third party (like a customer).
If a customer files a lawsuit for the injuries or damages they sustained from your product, defense costs alone could have a dramatic impact on your finances. A sizeable loss could result in the bankruptcy and loss of your online business.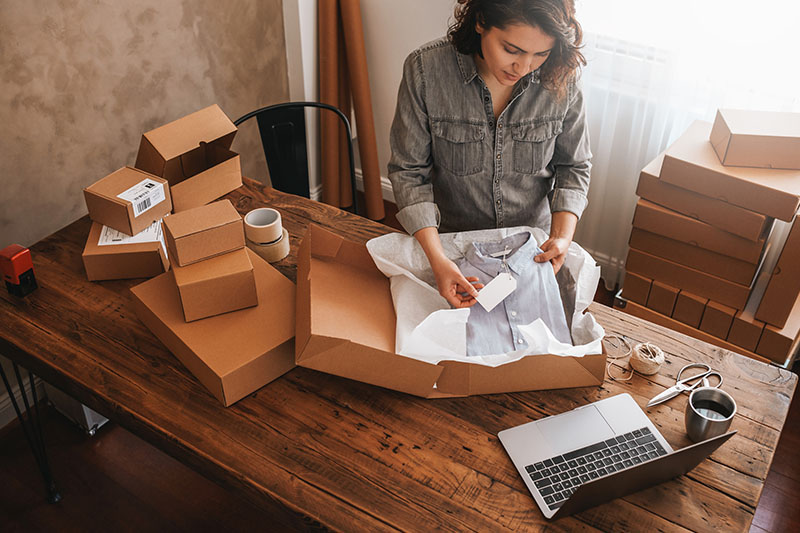 Business Insurance For Online Retailers
There are several ways to reduce your business's exposure to lawsuits and claims resulting from the products that you sell. Here are three common, yet practical ways to protect your business and mitigate risks.
Avoid — Completely avoiding risk as a business is not feasible for most small businesses but there are a few things to help avoid the risk of product liability claims. Ensure that your product labels, ingredients, and instructions are clear, easy to read, and follow. Add extra notifications if your product contains potential allergens, small parts, or pinch points.
Reduce — If you purchase ready-made products as a distributor or wholesaler from a US-based manufacturing company, ask them to add your business as additional insured to their product liability insurance policy. Then obtain proof with a certificate of insurance issued to your business. Have stringent quality control standards and keep records of all product changes or discrepancies you may find.
Transfer — Purchasing product liability insurance is one of the best ways to transfer the risk of claims. By having insurance for online retailers, you shift some of your business risk to the insurance company. In the simplest of terms: you pay a premium to the insurance company, and they agree to help cover certain losses and claims your business may face due to your product.
Product Quality Management
Quality management is both preemptive and responsive.
First, quality assurance is generally a part of the development and production to avoid errors in the materials and function. On the flip side, quality control begins after a product is manufactured to check for irregularities, defects, and failures. Both are key to avoiding defects and recalls of your product because of the potential to cause harm.
Accidents can happen regardless of whether your product is lovingly handcrafted, manufactured by you in a large facility, or outsourced by a contract manufacturer.
The quality management process is a circular continuum rather than a straight line with a beginning and end. While it's easy to identify a starting point as you begin product development, you will forever be managing the quality of that product as long as it's on the market.
Each phase of the product cycle must include a quality management process:
Product ideation
Manufacturing and production
Product testing
Delivery of the finished product
Product use 
Monitoring product updates or changes
Finally, one of the most important steps is to purchase product liability insurance from a reputable company—such as Insurance Canopy.
Insurance Canopy and its affiliates have been selling product liability insurance to businesses large and small for well over 12 years. And just like you, Insurance Canopy prides itself on offering quality and customizable insurance at premiums that won't leave your business finances feeling defective.
Let the Fun Begin—Sell, Ship, Success!
Now that you have meticulously reviewed your seller's contracts, learned about your risks, and found the business insurance for online sellers that works best for you, it's time to get down to business.
Get out and sell! It's time to begin enjoying the rewards of your hard work.