Not only is the piano one of the most classic and beautiful instruments there is, it's becoming increasingly popular. In the past 20 years, the number of college students who choose to major in piano performance has risen by around 25%, and nearly a quarter of children aged 5 to 14 play the piano. The piano is seen as a versatile option, requiring skill and intelligence, with the discipline of learning to play offering a great foundation for children and adolescents. 
Piano teachers are able to instill these values in their students, while enjoying the ability to spend all day around music. If you play the piano and want to learn how to be a piano teacher, read on to learn the next steps.
What Private Piano Teachers Do
While the name is somewhat self-explanatory, private piano teachers may do more than you expect. The core of the job description is of course to teach clients how to play piano, but various models can be used for what this looks like. A private piano teacher is also different from a teacher who holds classes, teaching multiple students to play the piano at one time. Private piano teachers will either visit students in their home or use a personal space to have one-on-one sessions on piano playing. 
Many private piano teachers work for themselves and personally get and maintain their client base, though studios and organizations may also hire for these roles. They can choose to work with a specific subset of clients, like children, or be open to any audience and genre. 
Along with the actual lessons, private piano teachers also have a number of administrative and planning responsibilities. They may need to coordinate space for recitals, maintain schedules and financial records, and create lesson plans or curriculum for their students. 
In general, responsibilities for a private piano teacher may include: 
Planning individual lessons or general themes for a curriculum 

Adapting each lesson to an individual student's skill level and goals

Arranging schedules 

Billing 

Entering students into relevant exams, festivals, competitions, and recitals 

Setting up recitals or workshops 

Learning new techniques and pieces 

Maintaining and improving your own skills

Marketing your business and finding new clients
Some of these may change if you are employed by a studio or organization, but you should be prepared to tackle all of them.
Average Rates for Private Piano Teachers
The pay for private piano teachers can vary greatly, based on a number of factors like location, clientele, and whether they work for an organization or themselves. Sources that compile salaries, like Glassdoor, show an average salary range of around $62,000, but the range can be much broader. A self-employed piano teacher can charge hourly rates or have clients pay for a certain number of classes upfront. 
Overhead for these professionals can be fairly low, especially if they go to clients' houses and do not need to maintain a space or a piano of their own. The majority of expenses will come from any management materials they use and purchasing sheet music or other small items.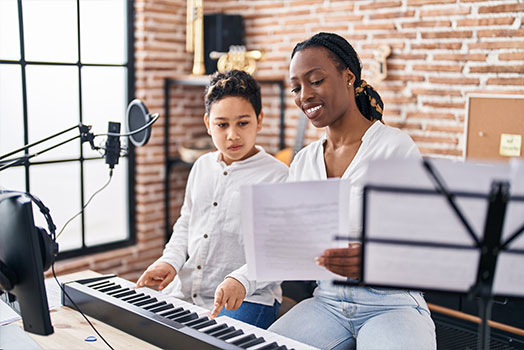 Education and Experience for Private Piano Teachers
Unlike other kinds of teaching, there are no regulations on private music lessons or educators. Certain employers may require them, but if you want to go into business for yourself, there is no formal piano teacher certification you must obtain before you can become a piano teacher. 
That said, there are some basic skills and experience that can be helpful in order to become a piano teacher. 
You will need to be a good piano player in order to effectively teach it. This usually means you should have a true understanding of music theory, the formal notes and terms used in sheet music and pianos, and be able to read music. A self-taught player can be extraordinary, but it makes it difficult to properly teach someone else to play to their standards. Basic competence and skill in the piano will be the bare minimum requirement in this endeavor. 
In order to teach anything, you need to be able to communicate ideas clearly. Whether you are discussing music theory, posture, or a specific technique, the goal is for a client to come away having learned something and with positive habits reinforced. There are piano players who are phenomenal, but would be poor teachers because they lack communication skills. An enjoyment of teaching and working with people is key to being an effective teacher.
While you do not need a degree or formal training, many people do find it helpful when becoming a private piano teacher. This can be anything from a formal education in music to training on teaching itself. Prior teaching experience in other disciplines can be a great boon to your career. 
However, if you are looking to teach certain audiences, more formal credentials may be required. Teaching people who are looking to become professional piano players, or who themselves have a lot of experience, will naturally require a higher level of skill.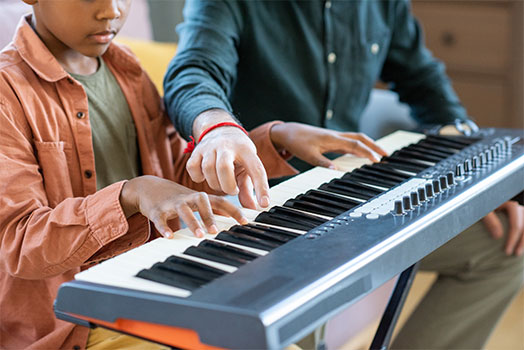 How To Become a Piano Teacher
If you want to be a private piano tutor, the good news is that the process is simple. A few steps will help you get off to a great start in this field. 
1. Decide on Your Business Model
Before you move forward as a piano teacher, you will want to understand what exactly that looks like for you. Ask yourself these questions: 
Is this a part time or full time job? 

Will you work for yourself, or a studio/organization?

What kind of students do you want to take on?

Is there a specific niche you will be working with? 
As a part of this, you can also start creating lesson plans or a general curriculum. This can help you better decide on rates, schedules, and overhead costs. 
You likely already have piano skills if you are considering being a teacher. But any time you can take to practice, brush up on certain songs, or learn a new technique will be helpful. You can also focus on your teaching skills as a part of this exercise. 
You do not want to teach any students without the proper protection in place. Music teacher insurance serves to ensure you are not at risk of a major loss because of your career. These policies cover everything from injuries to yourself at a client's house or a client at your space to a lawsuit regarding your services. Securing an insurance policy specific to the field should be a part of all steps you take to formalize your business. 
Insurance Canopy offers an affordable policy that starts at just $21.08 a month and includes comprehensive coverage to protect you and your business. To learn more about music teacher insurance, check out this blog post. 
Music Teacher Annual Policy: Starting at $229 Per Year – Your business involves working closely with people; let us help you have peace of mind with protection for your small business. We understand the most common claims your business will face and we want to help you be protected. Let us be your professional resource to help your business thrive.
4. Start Marketing Yourself
Marketing can be a huge asset in the world of private music teachers, who often work by word of mouth. Setting up social media pages and creating assets to distribute will help you stand out and get the word out about your services. You may be surprised how quickly you land your first student!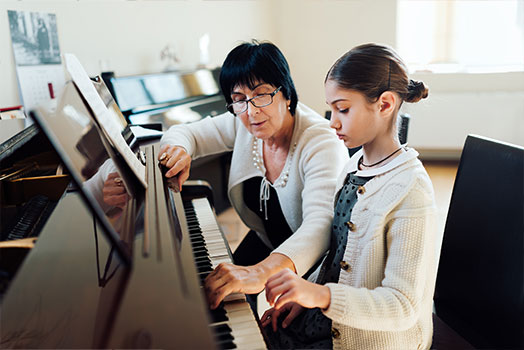 Tips for Successful Piano Teachers
If you want to be a private piano tutor, the good news is that the process is simple. A few steps will help you get off to a great start in this field. 
Once you are able to book some clients, it can feel like the hardest part of your business is done. But remember that most people don't stay in piano lessons forever, and you will want to keep replenishing clients for years to come. The best way to avoid being stuck in a constant loop of struggling to find clients is to build a true network. 
Create online groups using platforms like Facebook for your clients to talk. Invite past clients to recitals. This keeps them engaged, creates connections, and helps you to be seen as a true business with a wide impact on the community. You can also use this network to strategically market yourself. For example, you can have a student's friend attend a lesson for free to help expand your reach.
Your network should also include other professionals in your space. Making connections with private guitar or drum teachers can lead to crossover and promotion without taking away from your base. Advertise at local trade shows or recitals and cast a wide net to bring in as many clients as possible.
2. Choose a Specific Niche
It can be helpful to narrow down your focus as a teacher to a specific subset of students, techniques, or music. This may seem counterintuitive since there are less potential clients in that niche. However, doing this helps you become an expert in that particular field and allows you to hone the skills to back that up. 
Going from a lesson focused on classical music to one focused on a rock band can be difficult, forcing you to shift between modes all day. This can lead to you being less effective in both realms. The same is true if you go from one client to a wildly different one. Teaching a six year old how to play a song for the first time is a different skillset than teaching a concert pianist a new technique, and it is okay to stick to one.
Choosing a niche doesn't mean you can never do anything else. You can choose to expand your business later, pivot to another niche, or take on extra clients outside of that area. But branding yourself as a specific type of teacher can be a great way to help your business take off quickly.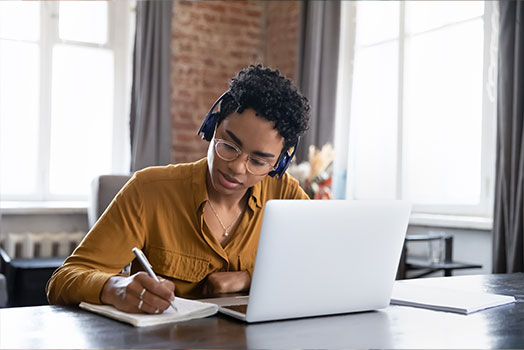 3. Never Stop Being a Student
Just because you are a skilled piano player and teacher doesn't mean you never have to learn anything new. In fact, continuing to learn is a great way to serve as an example to your students and set yourself apart as a teacher. Seeking active opportunities to grow and learn can make a huge difference for piano teachers. 
The obvious way to do this is to focus on learning more music. This may mean a new genre or new technique, or simply improving specific skills. Learning to compose, arrange, improvise, or sight read can be great ways to expand your skills. It is also helpful to sit in the seat of a learner as a way of relating to your students. 
Another way to expand your knowledge is to focus on technology. Being able to use the latest apps and software to maintain your business can make it easier and give you a competitive edge, but there is also piano-specific technology. Understanding how to create and mix music online, record video and audio, or find sheet music online can all be helpful skills for both you and your students.
4. Teach What The Student Is Interested In
If you are working with kids, it can often feel difficult to connect. Even for a young teacher, the position of an authority figure creates an automatic distinction that children may be sensitive to during lessons. It can be helpful to use things they are familiar with in your lessons to create a stronger connection and get them interested. 
For some students, they will be open about what they like, creating an easy starting point. A child that likes Harry Potter may love to see you use a wand as a pointer, while a student who is obsessed with horses could be rewarded with nice horse stickers. Personalizing lessons in this way makes them excited to see you and increases their chances of success. 
But even when you don't know a student's interest, you can pull from pop culture around you. Listen to the radio and pay attention to popular movies or television shows to get an idea of what music your students may be hearing. Incorporating these themes, or the songs themselves, makes your lessons different and exciting. 
5. Make Sure Your Business Is Protected
Just because you are self-employed or working as a private piano teacher does not mean you can forego the normal protections a business needs to have in place. In fact, it is more important in these cases since an injury or lawsuit could mean a loss of all income. Securing music teacher insurance is a great way to be sure that you are covered in the case of injury or other medical expenses, as well as against any professional liability claims. Taking your business seriously includes these kinds of decisions, and your clients will see and appreciate your diligence.