Setting your own schedule. Determining your own prices. Choosing your own students. These are a few of the many benefits that might convince you to run your own home-based tutoring business.
Starting a tutoring business isn't easy, though. There are a lot of things to take care of before your classes can begin. Luckily, your friends at Insurance Canopy are here to help. Here are the steps you need to follow to start your own tutoring business from home.
How To Start A Tutoring Business From Home
1. Determine what kind of tutor you want to be
There are as many kinds of tutors as there are subjects of study at school. English tutors. Math tutors. Tutors to help students prepare for exams. Don't feel like you have to teach it all. Instead, choose one or two of your best subjects. You can always hire tutors who specialize in other subjects as your business grows.
In addition to what you'll teach, you need to decide on how you'll teach it. Are you okay teaching students remotely via video conference, or do you prefer to teach in person? Also, do you want to be a private tutor, or work in a school setting? The answers to these questions will impact your business preparations, so it's important to know what you want to do early on.
2. Get a Certification or License
If you're looking into starting a tutoring business, chances are you're pretty knowledgeable in at least one subject. That said, there are several added benefits to becoming a certified tutor or receiving a tutor license.
Tutor certification courses can help you become a better teacher, equipping you with effective tutoring strategies and techniques. Being a certified tutor can also improve your credibility which can lead to more and higher-paying opportunities.
If you plan on working with other organizations, like a tutoring agency, you may be required to have a specific certification. Schools may or may not require certification, but they almost always require licenses that are regulated by a state's board of education.
3. Gather the Necessary Teaching Materials
Once you know what you want to teach and how you're going to teach it, it's important to gather the materials you need to run an effective lesson. This will depend heavily on what kind of tutor you want to be and the individual needs of your students.
Some tutors simply help their students with their homework, using their textbooks and worksheets as the primary source of information. Other tutors use their own textbooks, worksheets, or online resources to help students learn the material.
In another vein, it's important to have an ample supply of office materials— like paper and pencils. If you plan on teaching lessons online, make sure you have all of your computer applications and programs downloaded so you don't have any hiccups midlesson.
4. Choose your pricing and policies
Perhaps one of the most important aspects of running your business is deciding how and the amount you want to get paid for your services.
Are you okay with charging students hourly, or do you prefer monthly tutor insurance at the end of the month? Do you prefer checks and cards, or will you accept digital payments via an online service or app? Are you willing to offer refunds to disgruntled students? These are all important questions to consider before your first lesson starts.
When it comes to pricing, keep in mind that what you charge depends heavily on the subject matter, grade skill, and credentials of the tutor. Don't be afraid to offer competitive pricing, but also don't back down from what you feel you should be paid.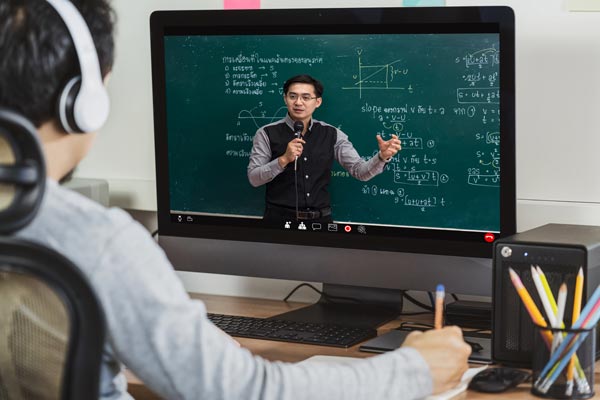 5. Register your business
Of course, your business isn't really a business until you've registered it. In order to register your business, you'll need to choose a business name and the type kind of business structure you want. Common business structures for tutoring businesses include sole proprietorship, partnerships, and LLCs. If you don't know the difference between them, check out SBA's small business structure guide for more information.
In addition to choosing a name, you should also consider creating a website. Websites are a great way to boost your credibility and provide important business information to potential students. It's also very important to have a website for when you decide to start marketing your business and grow your student base.
6. Protect Your Business With Tutor Insurance
Running a home-based tutoring business comes with a unique set of liability risks. As a tutor, you can be sued and found liable to pay for accidents and damages that occurred as a result of your business operation. Purchasing Tutor Insurance can protect your business from the out-of-pocket cost you may otherwise be required to pay for claims.
Insurance Canopy provides tutors with comprehensive, customizable insurance coverage at an affordable price that doesn't break the bank. With general and professional liability, it covers the majority of claims faced by professional tutors and allows you to continue running your business with peace of mind.
7. Get Some Students
Of course, the last thing your tutoring business will need before you can teach your first lesson are students. There are many ways to find students, or to have students find you. One great method of attracting business is to reach out to your community. Consider reaching out via social media or talking to local schools and libraries about your skills and services.
On the other side, if you have a bit of time and money to invest, you can advertise your business via Google and social media websites like Facebook. These are great ways to quickly build your business, although it does require a bit of investment up front. There are also many tutoring websites that can connect you to potential students, so make sure to check those out too.
Start Your Home-Based Tutoring Business Today
We hope this article has helped you better understand how to start a tutoring business from home. While there are many things to do to get your business going, once it's done you can sit back and enjoy the benefits of running your own business from home.
If you haven't already, check out Insurance Canopy's tutor insurance program. For as low as $21.08 a month, you can protect your home-based tutoring business with A+ rated liability insurance. In less than 10 minutes, you can get covered and receive instant access to your policy via our online user account. Don't run your business without liability insurance. Protect it with tutor insurance from Insurance Canopy today!