As a cleaning professional, you've worked hard to provide the best service for your clients. You probably focus much of your time and energy on everyday tasks like cleaning your clients' homes or businesses, buying cleaning materials, and managing employees. But, don't let the day-to-day tasks keep you from protecting your business in the best way possible: purchasing cleaning business insurance.
Insurance can seem complicated, especially if it's your first time buying a policy. However, at Insurance Canopy, we make it as simple as it can be, providing you with the best information possible so you can confidently move forward with your decision. This article will teach you everything you need to know about cleaning business insurance, including why you need it, what it includes, and much more.
The Cleaning Business Industry is Quickly Changing
The cleaning business industry has been rapidly changing over the past several years, making it challenging for small businesses to keep up. There are several reasons for this, but one of the most significant reasons is the COVID-19 pandemic. The pandemic increased cleaning protocols and expectations, many of which still continue, placing unprecedented demand on cleaning businesses. In the post-pandemic environment, companies need more frequent, thorough cleanings and reliable companies that can keep up with the demand.
In addition, more people working from home requires more residential cleaning services, as many people have turned parts of their home into home offices and are spending more time at home. The popularity of short-term rental websites has also changed the cleaning industry; people are booking short-term residential rentals in droves, leaving crowded hotels behind. Because of this, there is newfound demand for this type of gig cleaning. To keep up with this ever-changing business environment, your business needs to be prepared for any situation that arises. The best way to stay ready and protect your livelihood is by purchasing general liability insurance for your cleaning business.
Common Types of Cleaning Businesses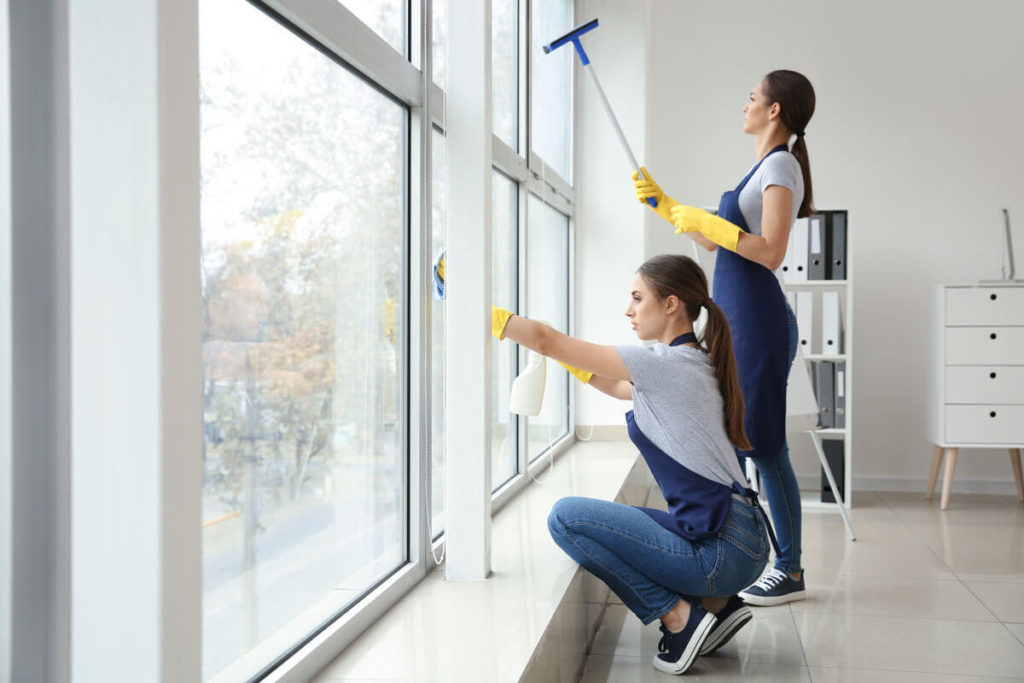 What types of services will cleaning business insurance cover? Let's take a look:
Housekeepers / House Cleaners
Housekeepers and house cleaners provide an essential service to property owners. Housekeepers help those needing weekly, bi-weekly, or monthly cleaning services around the house, while house cleaners offer less-common deep cleaning services. Both housekeepers and house cleaners need house cleaning insurance to protect their businesses from liabilities.
Maids
Maids assist with general housework services, including cleaning and upkeep. While many maids will offer services such as vacuuming, mopping, sweeping, taking out the garbage, cleaning bathrooms, and washing windows, they may also offer deep cleaning services. Maid insurance protects businesses from work-related accidents and other damages.
Janitors
Janitors are trained professionals who supply various cleaning services for commercial offices and buildings, such as factories, financial institutions, medical facilities, and more. They are experts in providing unique cleaning services tailored to each client. Any janitorial company can benefit from purchasing janitorial business insurance.
Window Cleaners
Window cleaners are trained to properly clean commercial and residential buildings' windows and glass surfaces. They work on various facilities, including those with windows at ground level and multi-level buildings. Because of many possible liabilities, window cleaning business insurance helps to protect window cleaning companies.
Carpet Cleaners
Carpet cleaning businesses use various types of equipment to clean upholstery, rugs, carpets, and other types of textiles for residential and commercial properties. If you own a carpet cleaning business, protect your best investment with carpet cleaning insurance.
Cleaning Business General Liability Coverage: What Does Insurance Cover?
Often, it's the insurance lingo that can seem daunting to first-time buyers. Let's break down the most common terms and definitions you'll see in your policy:
General Aggregate
For cleaning business insurance, the general aggregate is the maximum amount the insurer will pay for claims during a policy period. This means that if your aggregate limit is $1 million, then the insurance will pay out $1 million during the duration of the policy term.
Products & Completed Operations Aggregate
Included in general liability insurance coverage is a subset of coverage that specifically protects your business if a third party, such as the customer, has property damage or is injured because of your service or product.
Each Occurrence Limit
Each occurrence limit, also known as per occurrence limit, is the maximum amount your insurance company will pay for a claim resulting from a single occurrence. This amount stays the same regardless of how much a property is damaged, how many people are injured, and how many claimants file a claim.
Personal & Advertising Injury Limit
Personal and advertising injury limit is the amount an insurer will pay for claims stemming from legal rights violations, such as false arrest, malicious prosecution, wrongful eviction, slander, libel, and use of another's advertising idea in your advertisement.
Damage to Rented Premises Limit
Damage to rented premises limit covers any damage by fire to the premises rented to the insured. It also covers any suits or claims resulting from damage caused by anything other than fire for up to seven days.
Medical Expense Limit
This type of "no-fault" insurance is a general liability coverage that reimburses others for medical or funeral expenses incurred due to bodily injury or death sustained by accident under the conditions specified in the policy.
Does My Business Need Cleaning Business Insurance?
Even if you have one customer and zero employees besides yourself, you need insurance! It's a critical component for protecting yourself, your investment, and your company. Even if you run a small business and use your customer's cleaning equipment, there is still a risk for potential liability issues. Cleaning insurance helps to protect your business from accidents, liability claims, lawsuits, and more.
What if I'm an LLC?
If you decided to become an LLC when you formed your business, you might wonder if you still need liability insurance for a cleaning business. Generally speaking, an LLC protects personal assets from being attached to the obligations of your business, which can protect you in many ways.However, there are lots of other circumstances that can still put your business at significant financial risk if you do not have insurance. Insurance is a smart financial and business decision, no matter how your business is structured.
What if I'm an Independent Contractor?
Just like any small business owner, an independent contractor can be sued and held liable for damages that occurred while they were providing the service. If you are an independent contractor, you still need cleaning business insurance.
Some Examples of Cleaning Business Liability Claims
Imagine cleaning a client's home or business and accidentally breaking an appliance or an expensive piece of furniture. Because you broke the item, you're now liable to reimburse the cost of the item to your customer. Cleaning insurance protects you from the expensive, additional costs of any property damage that occurs while you're performing services.
Sometimes, accidents occur in a home or office where someone is hurt (for example, a homeowner arrives home and slips on a freshly mopped kitchen floor). In these instances, bodily injury coverage pays for the medical care of those who were injured, so you don't have to do so out of pocket. This type of coverage can also kick in to help cover costs for legal defense if you are sued for damages.
Failure to Secure Property
Many cleaning business owners routinely access their client's property when they are away. Failing to properly secure the premises after you're done cleaning can result in a risk of theft or damage, for which you would be held liable. In the event that one of your employees forgets to lock a home — and a theft later occurs — the insurance would cover your business for the damages of that mistake.
What to look for when shopping for cleaning liability insurance
Shopping around for insurance probably isn't your favorite hobby; after all, there's a lot to consider, which takes time and energy. You might not know what coverage you need or what company to choose. Here are a few suggestions for how to find the perfect policy for your cleaning business.
Limits
What are limits, and how much do you need for your cleaning insurance? Limits are the maximum amount per category your insurer will pay on your behalf. When signing up for cleaning business insurance, many companies will select general liability policies with a $2 million general aggregate limit and a $1 million "each occurrence" limit. When you have a higher limit on your insurance, you'll have more room for claims and coverage.
Insurance Carrier Rating
An insurance carrier is a company that provides insurance to your business. (The term insurance carrier is often used interchangeably with insurance companies.) There are many to choose from, so some websites compile insurance company ratings and reviews to make the decision easier. Browse through consumer ratings of insurance companies before making your final choice.
Availability of Licensed Agents
You want a provider who you can quickly connect with. Hours spent trying to contact your insurance company will only result in frustration and lost time. When shopping for cleaning business insurance, search for companies with plenty of licensed agents who are easy to contact during and after traditional office hours.
Customer Service
Customer service is so important when it comes to insurance. You need a company that makes it easy to file a claim or ask a question. Search online reviews relating specifically to their customer service. Contact the company before signing up to get an idea of how their customer service operates. Choose a company with excellent customer service that will be there for you when you need it the most.
FAQs About Cleaning Business Insurance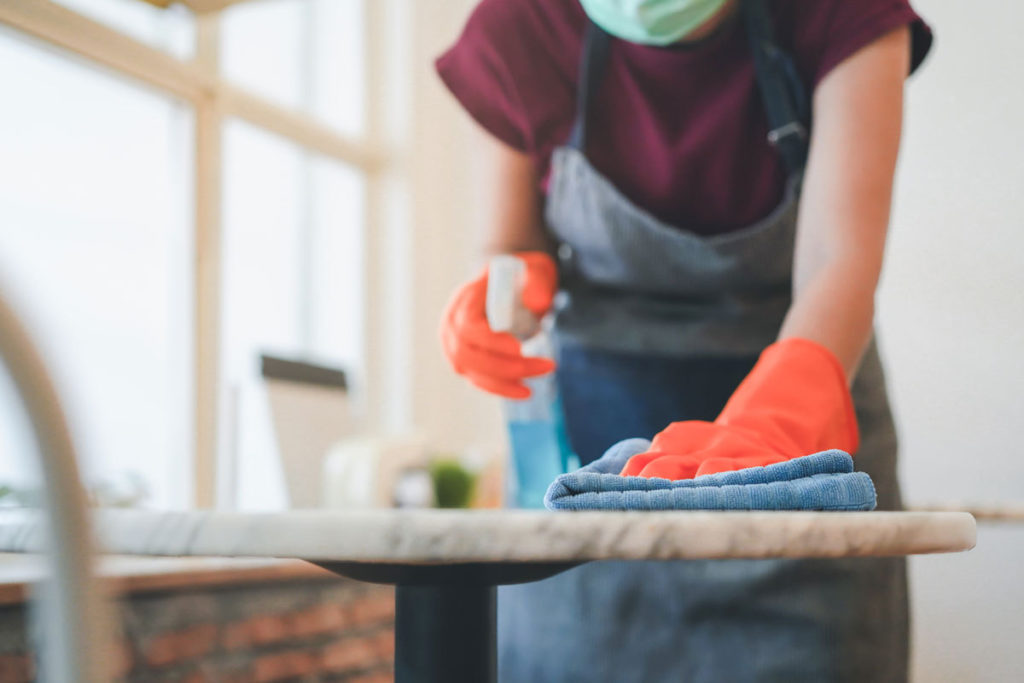 How Much Does Cleaning Business Insurance Cost?
Several factors have an impact on insurance costs, such as the type of cleaning services that are offered, the venue in which you'll be performing the cleaning services, the location of your business, the number of employees on your cleaning team, and the amount of coverage you've chosen.
Many companies give you the option of paying your cleaning business insurance in monthly or yearly increments. Paying monthly is a great way to break up the lump sum into manageable payments. Or, those who choose to pay annually will usually receive a discount and only have to worry about paying that expense once per year. Both payment options are available because every company has different needs.
What is an "additional insured?"
An additional insured is a person or an organization covered under a cleaning business insurance policy registered in someone else's name. Additional insureds have the benefit of insurance without paying the policy premiums. Any third party needing protection, such as employees, contractors, and more, would be listed as additional insured employees.
What is an insurance endorsement?
Any change in your policy that adjusts the coverage is known as an insurance endorsement. In many cases, it just means that you've added or modified your coverage. For example, increasing your general aggregate coverage is an insurance endorsement.
What is bonding and bonding insurance for cleaning businesses?
Insurance and bonds work together to protect your business from the common risks of day-to-day operations. A bond is similar to insurance coverage – it protects the parties involved while your business is performing a cleaning service. However, a cleaning business insurance bond safeguards your customers from theft, and insurance provides coverage for injury, lawsuits, and any property damage.
How long does it take to get cleaning insurance?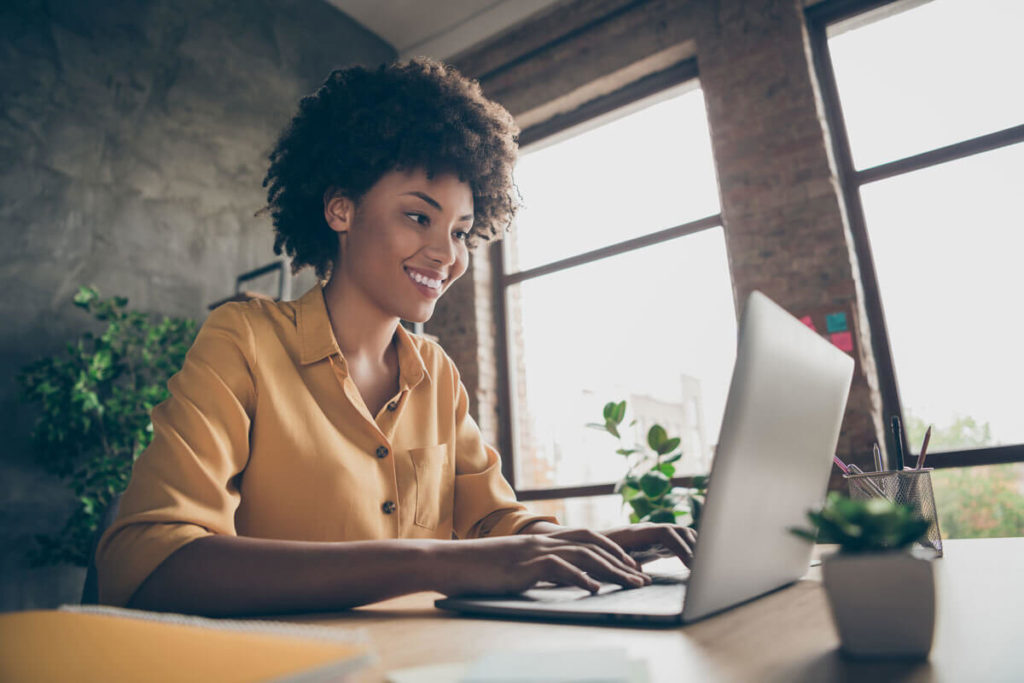 With Insurance Canopy, you can purchase a policy online and get your proof of insurance in about 10 minutes. With just a few clicks, we'll guide you through the step-by-step process of signing up for insurance. We'll just need your personal information, knowledge of previous insurance claim history, details for additional insureds, and payment information. It's fast, easy, and effective immediately. Learn more about our cleaning business insurance, including coverage details and limits, and find answers to frequently asked questions.
About Insurance Canopy
As a leader in the business liability insurance industry, Insurance Canopy provides reliable and reputable insurance coverage for your company. Instead of operating as a traditional insurance brokerage firm, we are a hybrid insurance company that assists corporations of all sizes in finding the best insurance for their cleaning business.
Drawing on our 15 years of experience, our team of professionals has compiled a comprehensive suite of insurance solutions from highly-rated and trusted carriers across the county. We provide you direct access to these national insurance brokers, and we curate programs tailored to the needs of your specific industry. Learn more about Insurance Canopy.